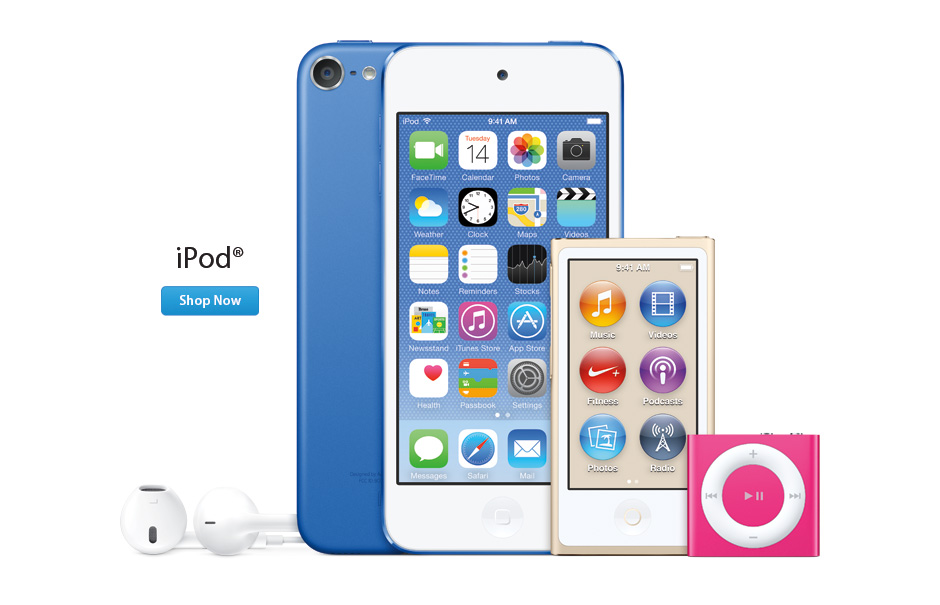 iPod touch®

iPod touch® is the perfect way to carry your music collection in your pocket. Now in 5 stunning colors. Listen to your favorite songs from Apple Music®1 and iTunes®. iPod touch® offers the ultimate mobile gaming experience. Take great photos and videos with the new 8MP iSight® camera and make video calls with the improved FaceTime® HD camera.2 And stay connected with Messages and the most popular social networking apps. All on a 4-inch Retina® display.3

4-inch Retina® display3
A8 with M8 motion coprocessor
8MP iSight® & FaceTime® cameras
1080p HD video recording
802.11ac Wi-Fi & Bluetooth 4.1
Up to 40 hours audio playback4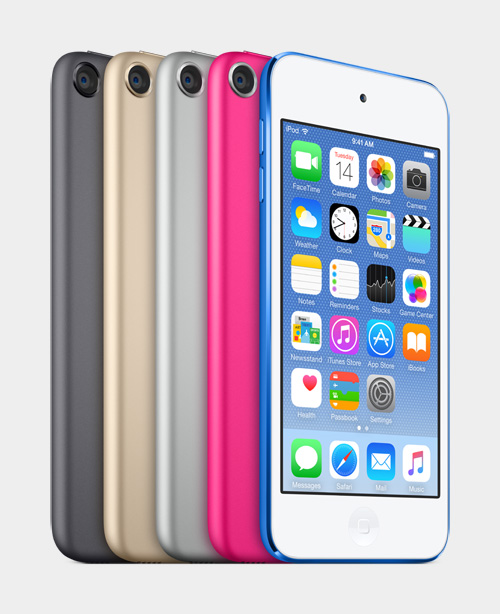 iPod nano®

iPod nano® comes in 5 stunning colors and is designed to provide hours of entertainment with maximum portability. Its 2.5-inch Multi-Touch display lets you see more of the music, photos, and videos you love3. And it has built-in FM radio as well as support for Fitness Walk + Run and Nike+.
iPod shuffle®

iPod shuffle® comes in 5 stunning colors. And with up to 15 hours of battery life, it is good to go for hundreds of songs.4 The control pad makes it easy to play your music. VoiceOver tells you the song title or playlist name.5 And you can sync multiple playlists from your iTunes® library.
Every iPod comes with a one-year limited warranty and 90 days of complimentary telephone technical support. AppleCare+ for iPod touch extends your coverage to two years from the original purchase date of your iPod and adds up to two incidents of accidental damage coverage, each subject to a $29 service fee plus applicable tax.6

AppleCare+ benefits are in addition to any legal rights provided by consumer protection laws in your jurisdiction. Purchase of the plan is not required to purchase iPod. AppleCare+ is subject to acceptance of the Terms and Conditions. For complete details, see terms at http://www.apple.com/legal/sales-support/applecare/applecareplus/

The company obligated under AppleCare+ in the United States is AppleCare Service Company, Inc., an Arizona corporation and wholly owned subsidiary of Apple Inc., doing business in Texas as Apple CSC Inc.

iPod models are not available in all colors at all resellers.

1 Membership required. Requires initial sign-up. At the end of the trial period, the membership will automatically renew and payment method will be charged on a monthly basis until autorenewal is turned off in account settings.
2 FaceTime calling requires a FaceTime-enabled device with a Wi-Fi connection.
3 Display size is measured diagonally.
4 Rechargeable batteries have a limited number of charge cycles and may eventually need to be replaced. Battery life and number of charge cycles vary by use and settings. See www.apple.com/batteries for more information.
5 Available in selected languages.
6Service coverage is available only for the iPod and its original included accessories that are defective in materials or workmanship or for batteries that retain less than 80 percent of their original capacity. The replacement equipment that Apple provides as part of the repair or replacement service may be new or equivalent to new in both performance and reliability.

Local telephone fees may apply. Telephone numbers and hours of operation may vary and are subject to change.

Service coverage may be subject to certain restrictions.

TM and © 2015 Apple Inc. All rights reserved.

Apple, the Apple logo, iPod, iPod touch, iPod nano, iPod shuffle, iTunes, iSight, FaceTime, and Retina are trademarks of Apple Inc., registered in the U.S. and other countries. Apple Music is a trademark of Apple Inc.