HomePod mini™ is a compact speaker and powerful, intelligent assistant. At just under 3.5 inches tall, it fits anywhere and gives you incredible, room-filling sound for your favorite music and entertainment. And with Siri®, you get hands-free help to do things like set a timer, ask a question, make a phone call, intercom the family, and more—all with just your voice. Use HomePod mini™ as a home hub to connect and control all your smart home devices. And it's designed to ensure your privacy and security. HomePod mini™ delivers these features and more, at an affordable price.
HomePod mini™
Apple®-designed full-range driver and dual force-cancelling passive radiators deliver deep bass and crisp high frequencies
Acoustic waveguide creates immersive, 360-degree sound, so you can place HomePod mini™ anywhere and enjoy great audio
Hands-free help with everyday questions like weather and traffic conditions and tasks like timers, alarms, lists, and reminders
Start your day by asking, "Hey Siri®, what's my update?" and get personalized news, weather, traffic, and calendar information
Ask Siri® to play a favorite song, artist, album, genre, or music based on your mood or activity
Compatible with Wi-Fi, Bluetooth, and Thread accessories.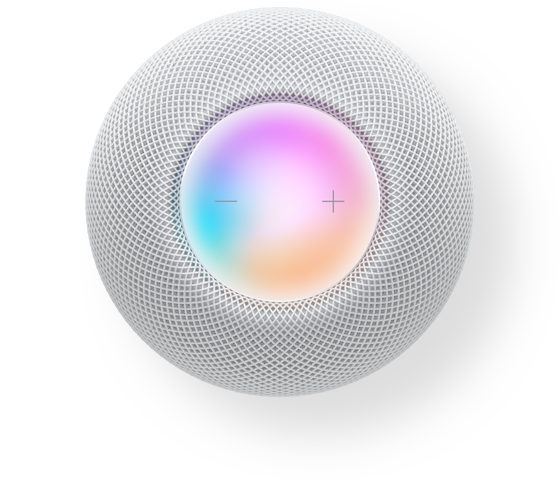 AppleCare+ for HomePod extends your repair coverage and technical support to two years from the original purchase date of your HomePod. And it adds coverage for up to two incidents of accidental damage from handling, each subject to a $39 service fee plus applicable tax. In addition, you'll get 24/7 priority access to Apple experts via chat or phone.*
AppleCare+ benefits are in addition to any legal rights provided by consumer protection laws in your jurisdiction. Purchase of the plan is not required to purchase HomePod. AppleCare+ is subject to acceptance of the Terms and Conditions. For complete details, see terms at www.apple.com/legal/sales-support/applecare/applecareplus.
The company obligated under AppleCare+ in the United States is AppleCare Service Company, Inc., an Arizona corporation and wholly owned subsidiary of Apple Inc., doing business in Texas as Apple CSC Inc.
*Service coverage is available only for HomePod that is defective in materials or workmanship. The replacement equipment that Apple provides as part of the repair or replacement service may be new or equivalent to new in both performance and reliability. AirPort devices must be purchased up to two years before your HomePod purchase or during the term of your AppleCare+ coverage.
Local telephone fees may apply. Telephone numbers and hours of operation may vary and are subject to change.
Service coverage may be subject to certain restrictions.
Requires iPhone, iPad, or iPod touch with iOS 11.2.5 or later for setup. Siri works with Apple Music. Subscription is required for Apple Music. Only HomeKit-enabled devices can be controlled by HomePod.
TM and © 2018 Apple Inc. All rights reserved.
Apple, the Apple logo, Apple Music, and Siri are trademarks of Apple Inc., registered in the U.S. and other countries. HomePod is a trademark of Apple Inc. App Store is a service mark of Apple Inc.