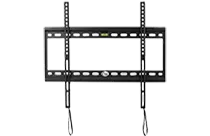 TV & Video Accessories
Build Your Own TV Home Theater
BrandsMart USA carries an enormous selection of televisions and home theater components for your best home entertainment setup yet. We stock more than 175 models from 22 brands including Samsung, LG, Sony , Bose and Klipsch, as well as flat screen TVs up to 90 inches. Our knowledgeable sales specialists are ready to educate you on our great variety of HDTVs, home audio systems, TV entertainment centers, and more! So visit a BrandsMart USA TV store near you or shop online for all your television and home theater needs.
Shopping for a New Television
TV Deals
Looking for significant savings on an HDTV? Find the latest flat screen TVs at BrandsMart USA. Explore an astounding selection of small and large televisions for your kitchen, bedroom or living room. Check out our TV and home theater packages offering huge savings on theater-quality sound for less. From 4K televisions and streaming media players to video game systems and accessories, shop our deals and sales to create the best home entertainment system possible. Prices change every week so buy online the brand-smart way and check back here for the best TV deals.
TV Screen Sizes
Two major factors to consider when choosing a television are room size and viewing distance. This decision may also influence your preference of a TV stand, wall mount or swivel mount. As a basic viewing guideline, TVs 32" or smaller are perfect for standard-size bedrooms, small apartments and kitchens, while larger TVs from 33"- 49" are best for master bedrooms and medium-sized living rooms. For homes with large living areas, 50"- 70" TVs accommodate most viewing angles, and an even wider field of view can be achieved with a curved TV. Televisions larger than 70" are essential for home theater and media rooms.
Types of TVs
Liquid Crystal Display televisions feature LCD panels dimmed by a backlight. These work well in almost any size room and are available in numerous sizes. LCDs are often less expensive than LED HDTVs. LED TVs are backlit with energy-efficient Light-Emitting Diodes to show perfect bright colors even in rooms with ample lighting. 4K UHD TVs offer Ultra-High Definition quality with four times the resolution of 1080P TVs and excel to display High Dynamic Range (HDR) images with a broader spectrum of colors. For those in search of the ultimate TV, OLED TVs are exceptionally bright with an enhanced contrast ratio for better blacks and even brighter whites, and its technology allows for an amazingly thin frame. Modern HDTVs now include "smart technology" and Smart TVs have emerged with Wi-Fi built-in directly into the set so you may stream your favorite internet content such as Netflix, Skype and YouTube, or even surf the web.
*Qualifying purchase amount must be on one receipt. No interest will be charged and equal monthly payments are required on promo purchase until it is paid in full. The payments equal the initial total promo purchase amount divided by the number of months in the promo period, rounded up to the next whole dollar. These payments may be higher than the payments that would be required if this purchase was a non-promo purchase. Regular account terms apply to non-promo purchases. For New Accounts: Purchase APR is 29.99%. Minimum Interest Charge is $2. Existing cardholders: See your credit card agreement terms. Subject to credit approval. #159, #256, #353
*The monthly payment shown equals the purchase price (excluding [taxes and delivery) divided by the number of months in the promo period. It is rounded to the next highest whole dollar. It is only good for the financing shown. If you make these payments by the due date each month, you should pay off this purchase within the promo period, if it is the only balance you are paying off. If you have other balances on your account, this payment will be added to any other minimum monthly payments.