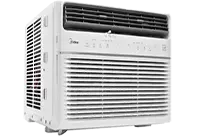 Cooling & Heating
Air Conditioning & Heating
Enjoy your favorite room in the house with the perfect air quality and temperature. BrandsMart USA has you covered on all your cooling, heating and air quality needs no matter the season. Discover a wide selection of affordable air conditioning and heating appliances including air conditioner units, fans, space heaters, dehumidifiers and air purifiers at great prices. In South Florida, our year-long heat can be challenging on any air conditioner, cool down with a new central unit, personal fan or dehumidifier. Whether in cool weather or freezing offices, our personal heaters will keep you toasty. There are many alternatives to your central air conditioning when the summer heat temperature starts to rise. Check out our air conditioner sales, making it easy to choose the best Energy Star air conditioner for your home and help save on your summer electric bill. We carry everything from cheap fans to high-end mini-split air conditioners, as well as all your favorite brands including Arctic King, GE, Friedrich and Sharper Image. Shop online or speak to one of our air conditioning experts at a BrandsMart store near you.
Types of Air Conditioners
Today's advancements in cooling and heating technology makes air conditioning cost effective and easier to control. Many new air conditioners are energy efficient, with advanced cooling power and easy remote control systems. In case your central A/C system can't compete with mid-afternoon heat, we offer great deals on window and wall air conditioners, as well as portable air conditioners and fans.
Improve the Air Quality in Your Home
The quality of the air in your home is very important to have the best possible environment. Eliminate the risk of exposure to allergens, dust, mold and odors with a new air purifier from BrandsMart USA. Consider buying an air filtration system with a washable, carbon or HEPA filter for an environment full of fresh air and free of any smells. Advances in smart technology allow efficient air purifiers to even send alerts to your smartphone when your washable air filter needs cleaning. As humidity rises in the summer, excessive moisture in the air can make it uncomfortable to breathe. Check out our dehumidifiers designed to remove the excess moisture from the air in your home and help prevent mold from ever growing. No matter your air quality needs BrandsMart has you covered!