North Atlanta Info

I-285 & Peachtree Industrial Blvd
5000 Motors Industrial Way
Atlanta, GA 30360

(770) 452-9500
View All Stores
Managers

| | | |
| --- | --- | --- |
| Jorge Castilla | | Shirley Reed |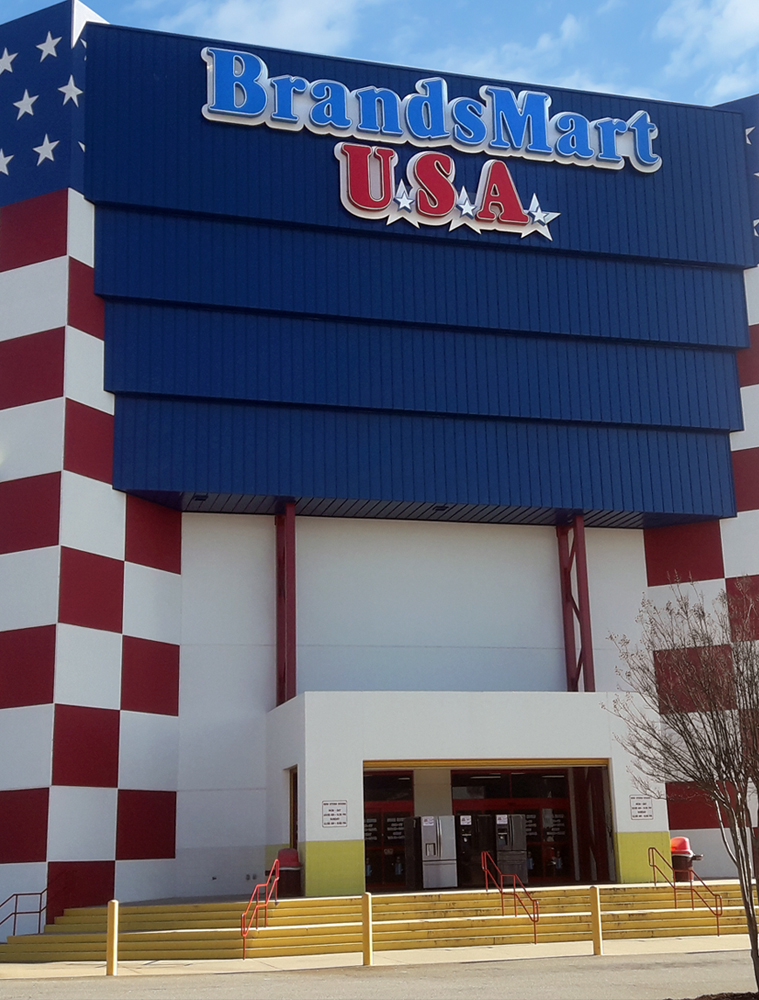 Northbound from I-85 from south side of Atlanta:
If you're driving northbound on I-85 from the south side of Atlanta, use the right 2 lanes to take exit 95 for I-285 W toward Chattanooga.

Merge onto I-285.

Take exit 31A for GA-141 S/Peachtree Industrial Blvd toward Chamblee.

Use the left 2 lanes to turn left onto Motors Industrial Way.

BrandsMart USA should be on your right.
Southbound on I-285 from north of Atlanta:
If you're driving eastbound on I-285 from north of Atlanta, take exit 31A for GA-141 S/Peachtree Industrial Blvd toward Chamblee.

Use the left 2 lanes to turn left onto Motors Industrial Way.

BrandsMart USA should be on your right.
BrandsMart USA is one of the leading appliance and consumer electronics retailers in the Southeast and one of the largest appliance retailers in the country. BrandsMart USA carved a niche in the market by providing top-quality merchandise from leading manufacturers at incredibly low prices for more than four decades.
Each BrandsMart USA store stocks a huge selection of televisions, large and small appliances, audio, video and home theatre equipment, furniture, mattresses, car stereo components, computers, cellular telephones, wellness care, thousands of accessories and so much more. Customers may choose from more than 500 name brands such as Whirlpool, Apple, Samsung, Tempur-Pedic, Sony & Bose and nearly 50,000 different items!
With stores in South Florida and the Atlanta-area, BrandsMart USA continues its legacy of offering customers their favorite brands at low, low prices.

Christy L.
05/14/2021 on Yelp
Knowing what you want helps immensely in the purchasing process. There is a huge supply of electronics and accessories to choose from. I come here from time to time and have always had a great experience.

Joann W.
03/18/2021 on Yelp
Today I had a dishwasher installed. Glenn and Marcus were awesome and went above and beyond. They were respectful, considerate, efficient and knowledgeable. Thank you both so very much.

Mary Lou H.
02/16/2021 on Yelp
Big Shout Out to Emma at BrandsMart for her professionalism!! She was very helpful and knowledgeable of the product that we needed. Big Thank You and Shout Out to the delivery/installers: DeShaun and Willie!! Best experience we have ever had with delivery and installation. They were extremely courteous, professional and knowledgeable. We had a 5 stars experience all the way around!! Thank you BrandsMart Doraville , Emma, DeShaun and Willie.

Robin B.
02/04/2021 on Yelp
Titi and Michael did an excellent job installing my new dishwasher and over the range microwave. They were very knowledgeable, polite and neat. Very happy with my purchases from BrandsMart.

Sofiya M. - Decatur, GA
11/24/2020 on Yelp
We want to take the time to personal thank Antoine Goulbourne. We purchased a 75 inch Samsung TV that only lasted a few months, after getting the run around from Samsung Care for over a month, it was determined that our TV could not be repaired and we would qualify to be swapped out for a new TV. We ended up visiting the Doraville location and were greeted right away with the friendly customer service staff. Antoine was in the office working on another case, but came to our rescue as soon as he heard what run around Samsung Care had given our young family. He went up and beyond to help us locate our replacement TV, set up delivery and even got us signed up for a warranty so that we would never have to deal with Samsung Care ever again. Antoine came to our home on the date and time promised and was very professional and helpful with the hauling away the old TV and setup of new TV. Being without a TV with 2 little kids during the pandemic and dealing with Samsung Care was such a nightmare, it was such a breath of fresh air to deal with Antoine Goulbourne, who went up and beyond to make sure we had a TV in place for the holiday season. Thank you again Brandsmart Doraville!

Kelly J.
10/6/2020 on Yelp
The washer/dryer Samsung set was delivered timely although on back order and my son and daughter-in-law were so excited to wash clothes in their new place and enjoyed just looking at it! Luiz made it happen after my follow up calls and I would work with him again!

Dennis B.
9/5/2020 on Yelp
5+ Stars for Gwen Skinner. Gwen helped me purchase a couple of microwaves that I needed. Since I'm a senior citizen, she handled all of the paperwork and made sure that I didn't have to go inside the store to pick up the merchandise. She prioritized my safety and I appreciate that. I will make sure to use Gwen in the future when I buy items from Brandsmart.

Johanna P.
8/7/2020 on Yelp
I always shop at Bransmart, and for a few of my visits Ulis have been very helpful and attentive. Thank you for the Great customer service!

E L.
6/16/2020 on Yelp
Me and my husband went to Brandsmart in Doraville, Ga yesterday looking for a wall oven. We were greeted by Ms. Barbara Afolabi. She was so kind and very helpful! We came in with a couple questions about different wall ovens and she was very knowledgeable, which helped us make a decision on what we purchased. We are very happy with the customer service Barbara exuded. The prices are very reasonable here and we definitely will recommend to all.

Adrianne R.
5/28/2020 on Yelp
BrandsMart always comes through with the deals, the staff is always friendly and willing to help. I will forever continue to buy my appliances there.

Kaliya T.
9/18/2019 on Yelp
This a really good store they have a lot of options and there cash office service was great and the prices were not that high.

Sandra Barnes Cochran
6/8/2019 on Google
Love this place!!! Best prices ever!!