Why Night Owl?
With enhanced security features, unique to video security systems, Night Owl® puts your needs first. While they help protect homes and businesses across the globe, all products are designed and engineered right here in the United States. If installing a wired system is not ideal for your setup, check out Night Owl's AC Powered Wi-Fi IP cameras. No matter what product you choose, rest assured Night Owl® takes a firm stance on ensuring your data remains secure. Innovation, affordability, 24/7 dedicated support and reliable customer service are just part of the reason Night Owl® is still the #1 Wired Security Camera Brand in the U.S.*.
Shop Now
System Features
Night Owl® products include a wide array of innovative technology designed to make your life easier and keep your home or business more secure. Advanced motion detection and spotlights alert you to potential threats. Unique security features, like 2-Step Verification and Single Sign-On work to safeguard your data and privacy and provide convenient access to your devices. And with free local storage, you can access your recordings free of charge anytime, anywhere.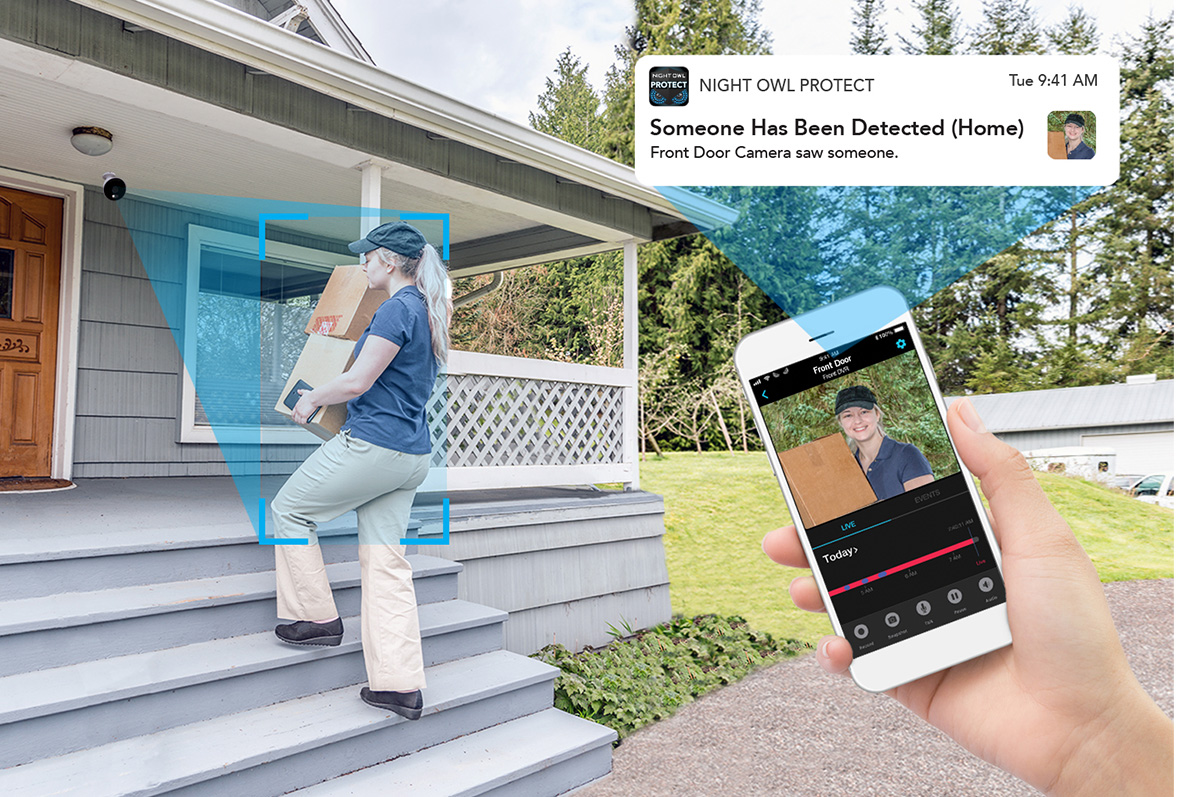 Advanced Motion Detection alert to your smart phone with the detection technology
Human Detection Technology and Facial Capture work together to search for human movement and send real-time alerts to your Smart Device. You can quickly decide if a threat has been detected or if it is someone you know, all while saving valuable hard drive space.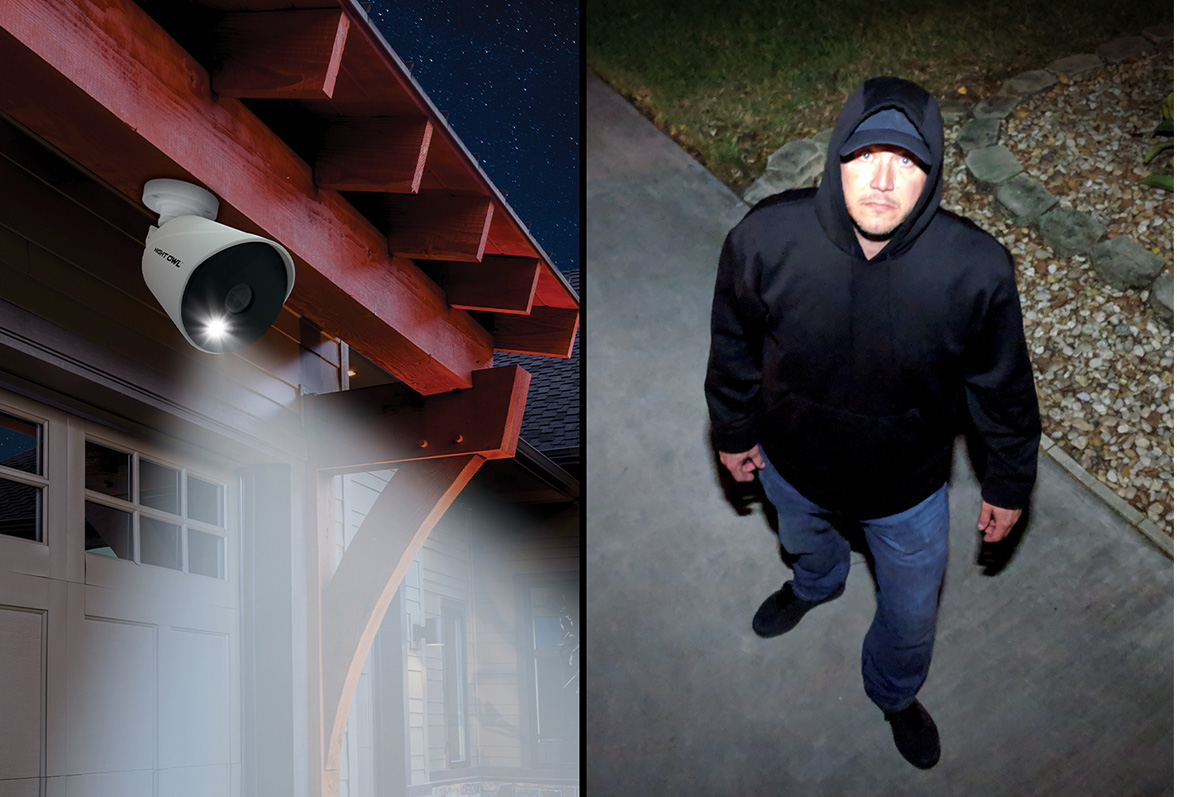 Motion-Activated Spotlight

Stop trespassers in their tracks! Human Detection activates the bright spotlight on our wired and Wi-Fi IP cameras, adding an extra layer of security and protection to your home or business. The bright LED spotlight can be easily controlled to suit your preferences.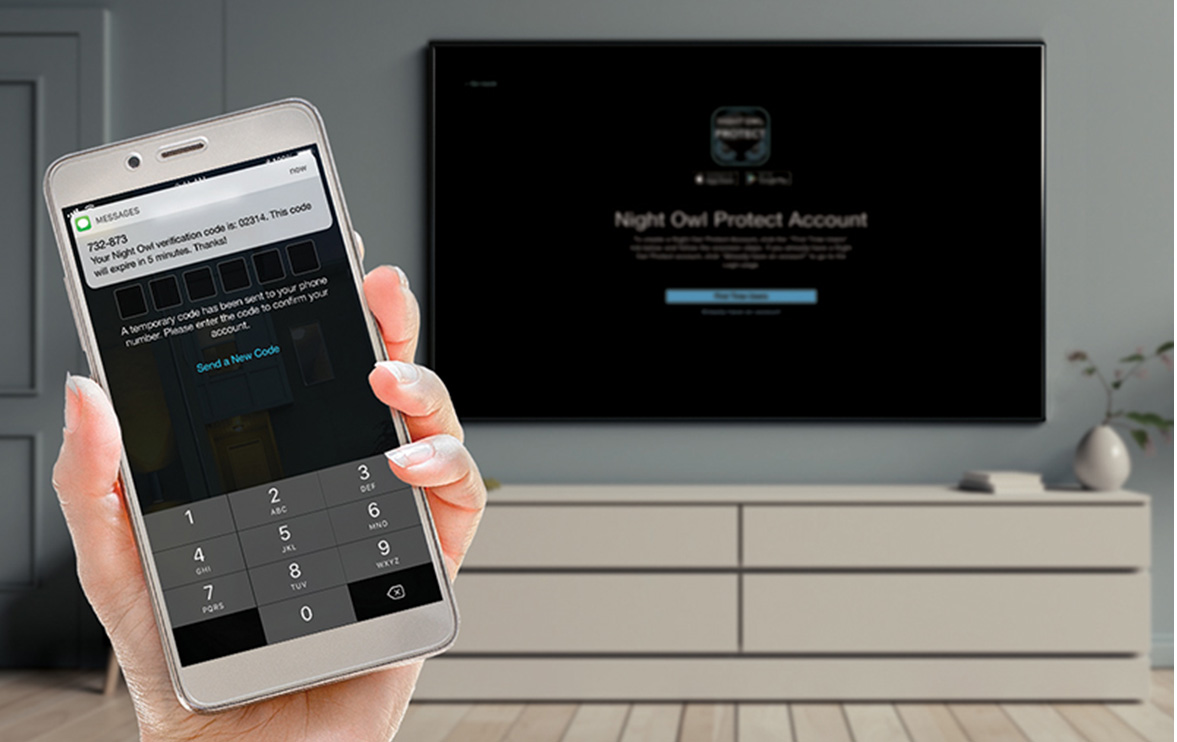 Unique Enhanced Security
Security features like 2-Step Verification and Single Sign-On keep your system safe and allow you to use the same credentials to log in to any Night Owl® device connected to your account.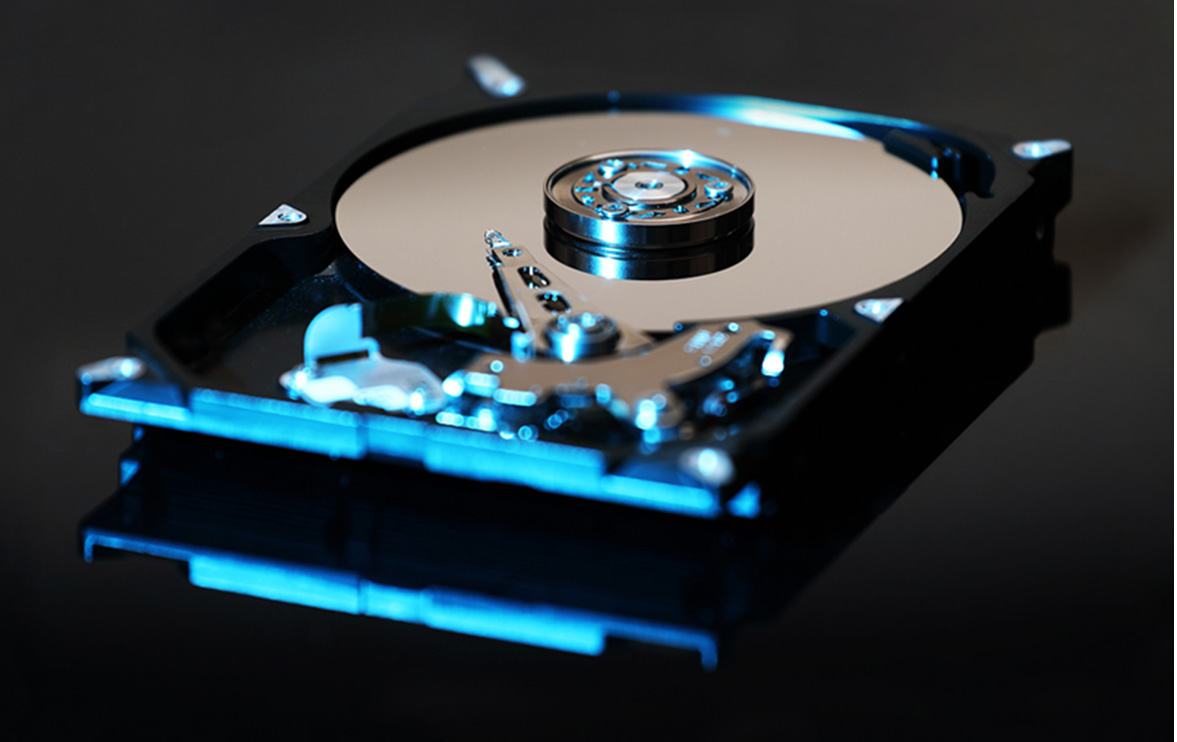 Free Local Storage with No Monthly Fees
Why pay extra fees when you can record locally? The pre-installed Hard Disk Drive (HDD) stores your recordings without having to spend money on subscriptions. You will have extensive local storage with absolutely no monthly fees.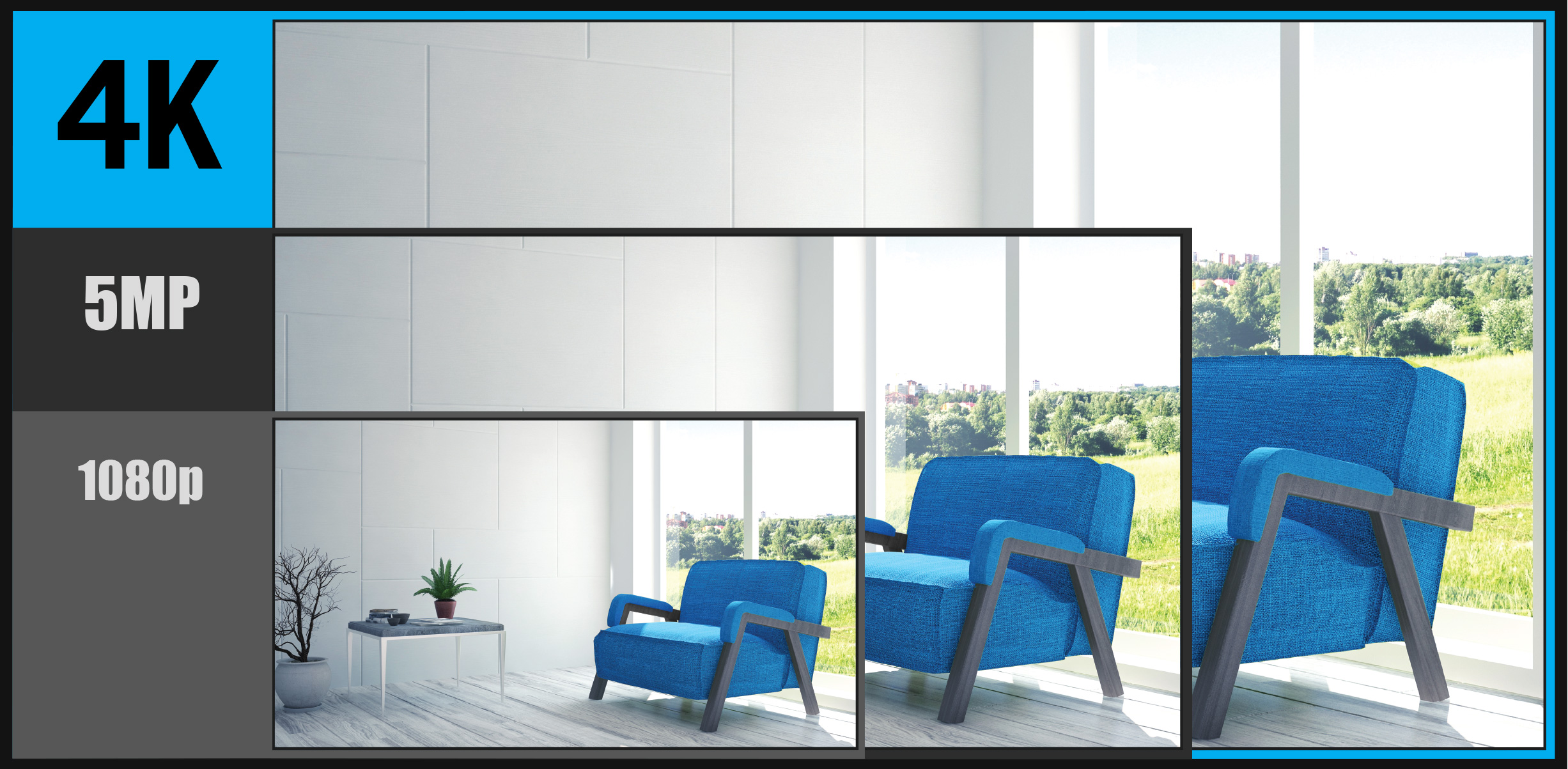 Monitor your Property with up to 4K Video Resolution
In addition to high-quality, true-to-life video resolution, Night Owl® cameras have detailed Night Vision, so you'll never be vulnerable in dark conditions. You will see intricate details with clarity and precision, day or night. Night Owl's cameras are designed for both indoor and outdoor use, ensuring you have every angle covered.
Shop Now
Wired Systems
Night Owl's wired technology uses a secure hardwired connection for real Closed-Circuit Video Security (CCTV). A wired connection delivers uninterrupted viewing and recording with no delays, providing you with true around the clock protection.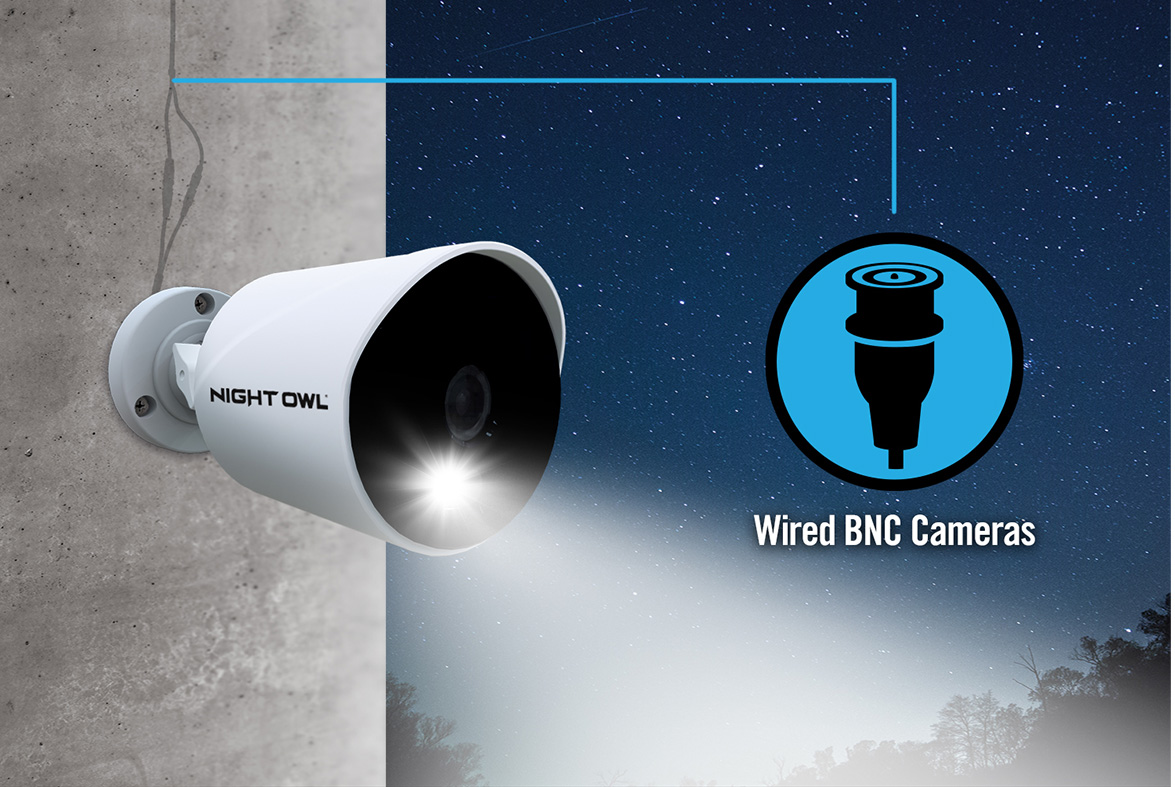 Secure Wired Connection
Each camera with our wired systems includes a BNC (video/power) cable to connect it to the DVR. This connection provides uninterrupted viewing and recording with absolutely no delays.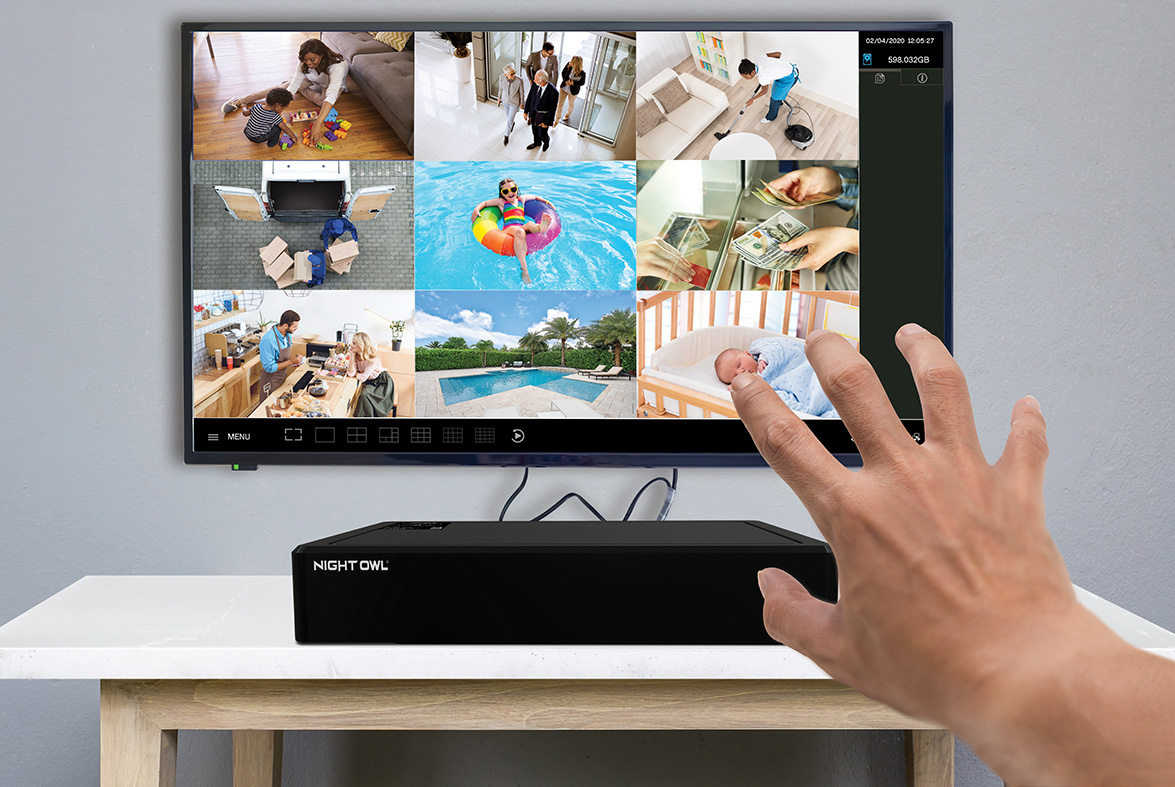 Anti-Theft Technology
Always be in the know! If your DVR is moved, a real-time alert is sent to your Smart Device, keeping you aware of threats. Even if the DVR only moves an inch, you will be notified.
Shop Now
Wi-Fi Systems
Night Owl's wireless technology provides unprecedented flexibility and convenience. The quick setup and simple installation make it easy for you to move your Wi-Fi IP security cameras as your coverage needs change. With no cabling required to connect the cameras to the Wi-Fi NVR / router, setup is faster and moving the security cameras to different locations is much easier.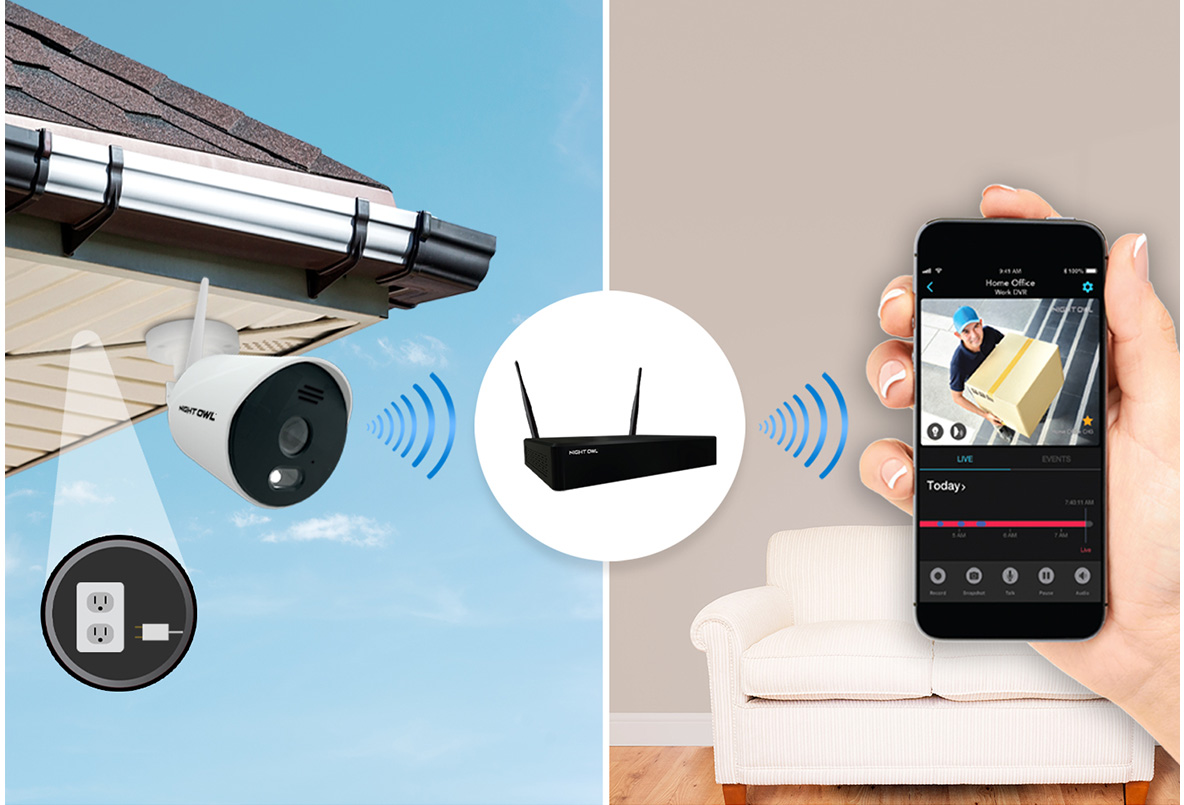 Secure Wireless Network
AC power allows for 24/7 coverage and pre-record options. Each Wi-Fi IP camera includes a 9 ft. power adapter so you can install the camera in a desirable location and easily move it as your coverage needs change.
2-Way Audio
Each Wi-Fi IP camera includes 2-Way Audio, a dual feature that records audio and allows the camera to act as a virtual intercom. When used with our free app, you will be able to hear each camera and speak using the microphone feature.
Shop Now