LINKSYS WIRELESS ROUTERS. PERFORMANCE PERFECTED ®.
At Linksys we believe in pushing technology to its limit. That's why we have pioneered wireless connectivity since our inception in 1988, leading innovation and engineering strategies, best-in-class performance, design, and customer service. We also believe in perfection. It's what drive us to create award-winning products that enable a connected lifestyle for people at home, at work, and on the move. Products with innovative features that allow you to easily manage and monitor your home wireless network remotely.
Performance Perfected®. It's what sets Linksys wireless routers apart.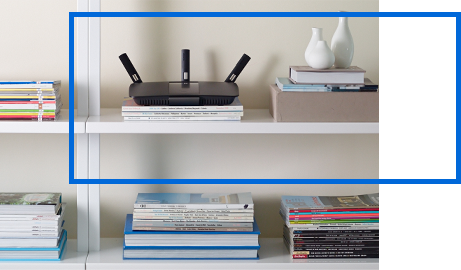 UNDERSTANDING YOUR HOME WI-FI NETWORK USAGE AND NEEDS.
The average household has 6 connected devices — smartphones, tablets, gaming consoles, laptops, and more -- often performing high-bandwidth activities like online gaming, streaming, and watching videos simultaneuously. Some important points to consider when shopping for a wireless router are: the number of wired and wireless devices on your network, the types of online activities performed, and any issues that may be impacting your online experience, like slow downloads, data buffering, and lag.
WIFI LIVES AT HOME WITH LINKSYS
Linksys, a pioneer on networking innovations for homes and businesses, links you with advanced networking products enabling you to create a connected lifestyle. A strong home network starts with a Linksys cable modem ensuring steady Wi-Fi connection from your service provider. Adding the latest wireless technology innovations in AC and MU-MIMO routers can boost Wi-Fi network speed and range creating a superior connection for all your Wi-Fi enabled devices. Range extenders are also available to relieve users from dead zones caused by many factors around your home. With the help of Linksys Smart Wi-Fi App, its super easy to set up and manage your wireless network remotely from your smartphone, while at home or on the move. As technology evolves, Linksys continues to show dominance in maximizing their products to keep up with the rise of bandwidth use and new cable services from your broadband service provider. Read on to learn how Linksys family of products are able fit your networking needs.
FREEDOM FROM DEAD ZONES.
From the construction materials of your home, to alarm systems, microwaves, and cordless phones - there's a lot that can interrupt your Wi-Fi connection. It can take more than moving your router to get rid of these dead zones. That's where range extension solutions come in.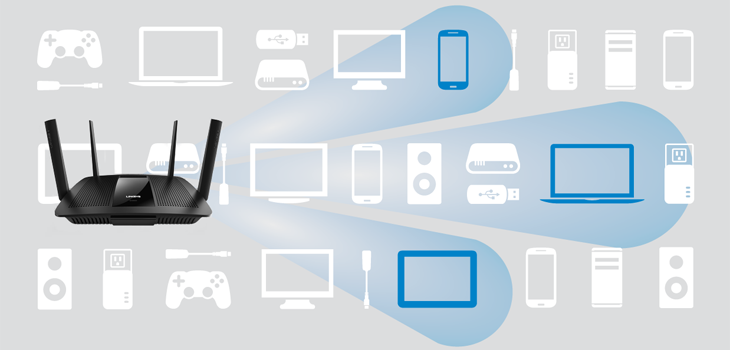 ULTIMATE SOLUTION FOR MULTI-DEVICE HOUSEHOLDS
The Max-Stream AC2600 Router is the ultimate solution for multi-device households. Breakthrough MU-MIMO technology delivers 4.6x* faster Wi-Fi speeds to everyone and everything on your busy network. Now the whole household can play video games, listen to music, check email, shop, stream movies, and more--all simultaneously and without lag or buffering.
UNINTERRUPTED MOVIE STREAMING
No more frozen screens while streaming your favorite shows or movies. With Linksys MU-MIMO technology, the entire household can enjoy smooth performance when simultaneously streaming. The combined 2.53 Gbps Wi-Fi speeds wipe out annoying buffering and enable faster downloads.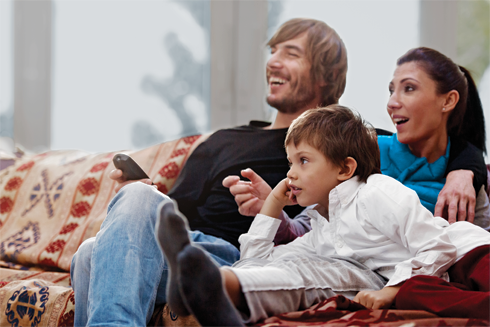 IMPROVED MOBILE SPEED AND RANGE
Shop online, send emails, and even set up your router from your mobile device in any room of your home without having to worry about signal drop-off. Beamforming technology delivers whole-home coverage that targets Wi-Fi signals to provide increased signal strength and coverage for each mobile device. Linksys Smart Wi-Fi allows you to monitor your home network anywhere from your mobile device.
LAG-FREE ONLINE GAMING
Game without interruption from other devices on the network with the new MU-MIMO technology. The router's supercharged 1.4 GHz dual-core processor and four high-speed Gigabit Ethernet ports make it an ideal choice for gamers looking for blazing-fast wired connections.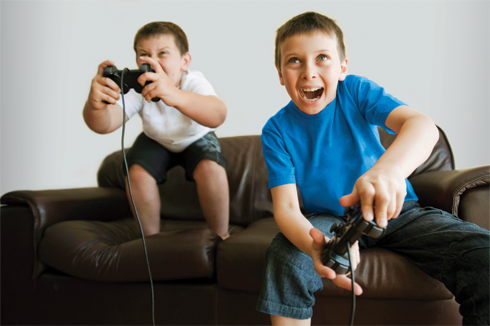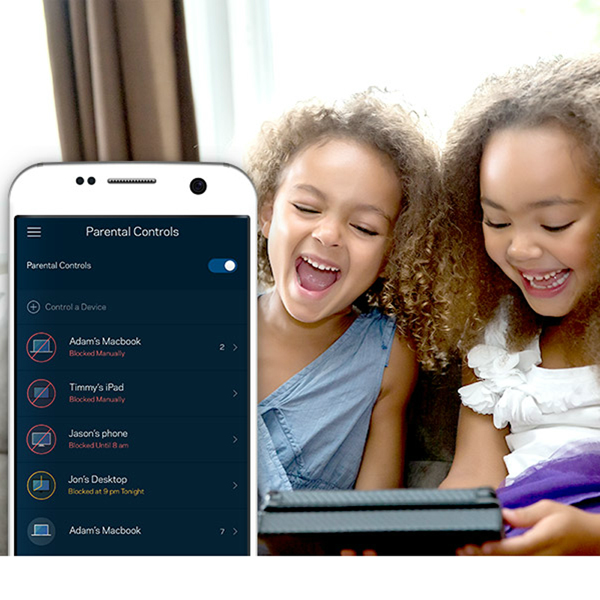 CUSTOMIZE AND MANAGE YOUR HOME WI-FI ANYTIME, ANYWHERE
With the Linksys Smart Wi-Fi App, you can closely monitor and manage your home Wi-Fi remotely using a smartphone or tablet.
Guest Access: Create a separate, password-protected Wi-Fi network for up to 50 guests and easily share the password.
Parental Controls: Ensure a safe Internet experience for your kids — even when you're away from home. Restrict access to inappropriate or distracting content, control usage, and block specific devices from accessing the Internet.
Device Prioritization: You can prioritize devices that need the most speed.
WHICH SOLUTION IS RIGHT FOR YOUR HOME?
Find out whether a wireless range extender or 4-in-1 access point will best suit your needs.
WI-FI RANGE EXTENDERS BOOST YOUR ROUTER'S WIRELESS SIGNAL.
A Wi-Fi Range Extender detects the Wi-Fi signal from your router and expands it throughout your home. Linksys range extenders also come equipped with exclusive Spot Finder Technology, which helps you find optimal placement for your range extender using any mobile device.

BEST FOR
Extending Wi-Fi signal to backyard
Streaming HD media on mobile devices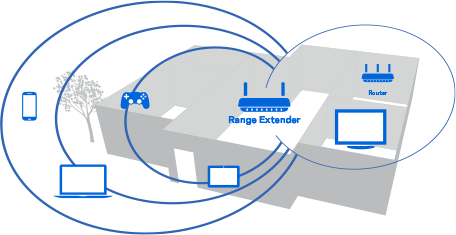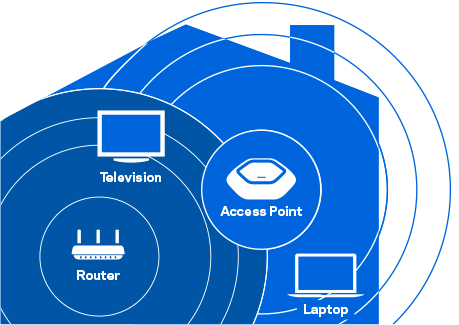 WI-FI ACCESS POINT INCREASES WIRED & WIRELESS RANGE.
Linksys' versatile 4-in-1 access point can be deployed several ways, depending on the kind of coverage you need. This unique device can amplify your router's wireless signal, or bridge between wired and wireless networks in your home office.

BEST FOR
Small home office networking
Connecting devices like desktop computers, printers, laptops
WI-FI TECHNOLOGY IS EVOLVING – BUT HAS YOUR ROUTER?
The days of noisy dial-up connections and web browsers that came on CD-ROMs may be over, but if your home has an outdated router, you're still living in the past. Homes today have an average of 8 devices connected to the Internet, and 84% of users stream videos and music, or play games online – all at the same time. However, a majority of homes still use old wireless router technology. It's no wonder that 54% of wireless Internet users surveyed face repeated performance issues.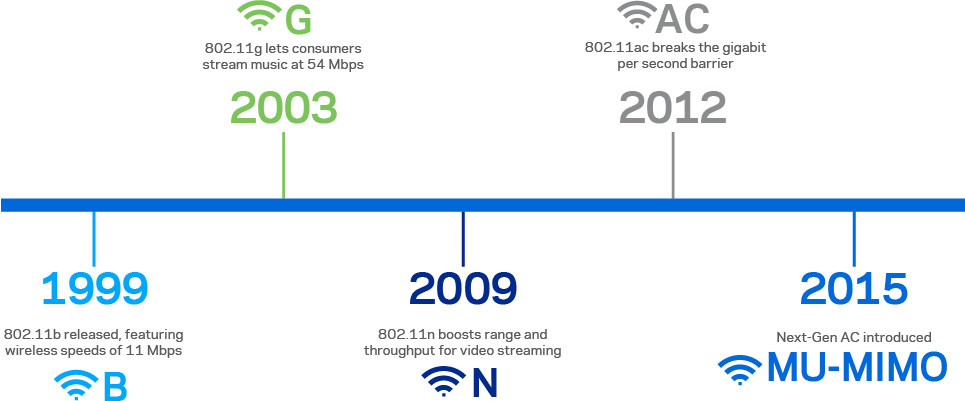 THE EVOLUTION OF HOME WI-FI
The average home has more than 8 devices connecting to the Internet – we're streaming TV shows in HD, we're video chatting with friends and family, we're playing video games against opponents around the globe, often at the same time.
To keep up with our growing Internet usage, modern home Wi-Fi routers have steadily boosted their wireless speed and range: from 11 megabits per second in 2000, to 1.3 gigabits today. That's over 1,000 times faster.

Today's Wi-Fi routers are 1000x faster than the routers of the '90s.