Laptop Buying Guide
Picking the right laptop
Choosing a laptop can be tough. You have to think about what size screen you need and what you'll be using it for, and how you're going to protect your laptop. Whether you need a Chromebook, a laptop for gaming, or a jack-of-all-trades Windows PC, we're here to help you make the right decision!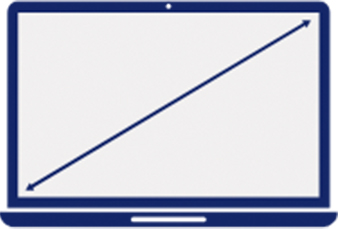 Choosing the right size
Before you choose your laptop, make sure you think about size. Smaller laptops are great for an on-the-go lifestyle. Larger laptops are great for gaming, long battery life, and productivity, but are better suited for at-home use. Here are the size ranges we offer for easy comparison:
13-14 Inch
Strikes a balance between portability and functionality. These are often under 4lbs.
15 Inch
The most common and popular size. Useful for school, work, gaming, and general use.
17-18 Inch
Ideal if your laptop stays on a desk. Great for gaming and workstation use.
Choosing the right platform
Will you use your laptop for school or work? Are you a hardcore gamer? Every operating system is better suited to a different task. With the right advice, you'll be able to find the right one for you. We offer Chromebooks and Windows laptops online, and a few other brands are available in-store.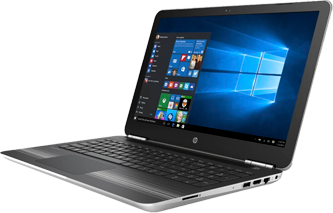 Window Laptops
If you're looking for an operating system that's flexible enough to do it all, Windows could be your go-to. It's flexible enough for work, gaming, and pretty much anything else. You can edit documents online, or work in files on your desktop. Most gaming laptops run on Windows, so it's better suited to gaming than other platforms. Windows does not have additional anti-virus software, but we offer Total Defense Internet Security with our Windows laptops.
Great for school, work, gaming, and more
Total Defense Internet Security and Microsoft 365 – Personal Edition bundles available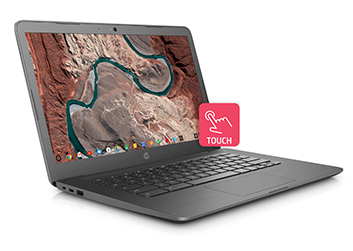 Chrome OS
Google's Chrome OS is simple and secure, but it can be a bit more limiting than other platforms like Windows. With a Chromebook, you'll get an app menu and desktop — but you'll mainly use the Chrome browser. Chromebooks are perfect for checking email, social networking, and working in Google Docs. They're also a more functional alternative to a tablet.
Built-in virus and malware protection
Simple and affordable
Great value for students
More things to consider
When shopping for a laptop, you'll also want to consider the physical features of the laptop other than size. Things like touchscreens, 360 convertible screens, gaming features, and more are great to consider when you're searching.
Microsoft 365 – Personal Edition
Everyone needs the basics on their laptop — Word, Powerpoint, Excel and more. We offer Microsoft 365 – Personal Edition Bundles for our Windows laptops, so you'll be able to use the software you need for school, work, or anything in between.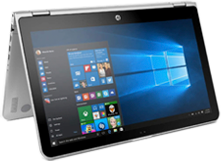 360 Convertible
360 convertible laptops offer better battery life and let you fold them to use as a tablet whenever you need. They're a more versatile option for school or business use.


Multitouch enabled
Multitouch enabled laptops give you the ability to interact with content using your fingers. This feature is often available on both Chromebooks and Windows laptops.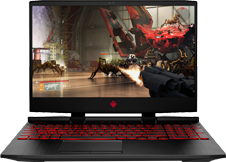 Gaming features
Gaming-specific laptops have slightly different physical features than their standard counterparts. They often have backlight keyboards, more tactile keystrokes, and better screen resolutions.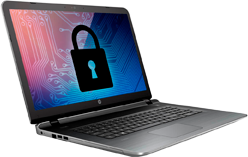 Total defense internet security
A new computer is a big investment — you want to protect it from viruses so it'll last for years down the road. Total Defense Internet Security gives you peace of mind with internet security and anti-virus protection. All of our laptops include a Total Defense Internet Security package from Aaron's, which includes 12 months of service from the time you activate.
Learn the tech lingo
When shopping for a laptop, it's easy to get confused if you don't know the tech-talk. Here's a quick and easy guide to laptop specs and their meanings.

Processor speed
Your CPU (central processing unit) is basically the brain behind your computer. How fast it is will determine how well your laptop performs. The CPU's clock speed is the number of times it can cycle per second, which is measured in GHz (gigahertz). High-end gaming laptops will have a higher clock speed (more Ghz) than a standard PC. If you're an experienced PC user, you'll need a higher processor speed to maintain the performance you're used to. If your laptop will be for general use, you don't need a high-performance processor. We offer laptops with great processor brands such as AMD and Intel at Aaron's.

RAM
Your laptop's RAM is a sort of "workbench" between the CPU and hard drive. It's used for information that's needed to keep your programs working while you use them. More RAM is generally better, and you'll want at least 4GB at a minimum. 8GB is the sweet spot for most people. We offer laptops with 4GB or 8GB of RAM. More RAM generally means a higher price for the laptop.

Storage
Your computer stores long-term files and programs in a hard drive or an SSD (solid state drive). SSD allows for immediate recall and use of documents and programs. Hard drive memory requires a bit more time to retrieve and open documents but allows you to store more data for a lower cost. Your drive's storage space is measured in GB (gigabytes), and it's generally better to get as much as you can. You'll want somewhere around 500GB at a