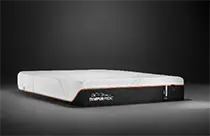 Mattresses
Discover the Best Mattress Brands the BrandsMart Way!
Shop our finest selection of top mattress brands and choose from different types, including spring, memory foam and hybrids. We all have different sleeping habits and the best support is necessary for quality rest and relaxation. That's why BrandsMart USA offers a variety of mattresses to fit your body and budget. Whether you are looking to finalize your condo bedroom set, or purchase a comfortable low-priced mattress for your guest room – we've got the mattress for you.
Ensure a Great Nights' Sleep with a Better Mattress
Quality of sleep is the most important aspect towards a healthy lifestyle. Sleeping has such a positive impact on our bodies that we actually spend about a third of every day sleeping on a bed. Whether you spent the night in a deep blissful dream, or in a spinning nightmare, it all depends on your mattress. Finding the mattress that satisfies your personal comfort is key for a refreshing sleep every night. It's not only about getting the appropriate 8 hours of sleep; it's about filling your mornings full of energy for the tasks ahead. Shop our top-rated mattresses and grasp the best good night's sleep you deserve.

At BrandsMart USA, our knowledgeable sales associates are ready to assist you in choosing the right mattress according to your needs. The ideal way to decide on a mattress is by testing different types and comfort levels in-person. The more information you can absorb about the mattress construction and your comfort preference, the more confident you will be in choosing the best mattress. We carry an assortment of mattresses, from the traditional innerspring to half spring/half foam, also called hybrids. Comfort levels range from firm, plush and euro tops. We even offer full adjustable mattress sets from major brands, including Sealy, Tempur-Pedic and Stearns & Foster.