Refrigerator Buying Guide
Picking the right refrigerator
Picking the right refrigerator usually comes down to two things: size and door style. Whether you prefer french door, side-by-side, or top freezers — we've got you covered. You'll find the right fridge for your kitchen, your lifestyle, and your budget. Let our refrigerator buying guide help you make the right choice.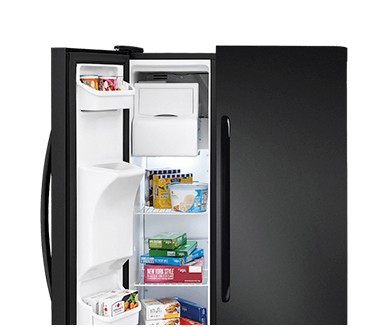 Choosing the right size
COMPACT TO MEDIUM 17-21 cu. ft
Best for 2 people
LARGE 22-24 cu. ft
Best for 4 people
EXTRA LARGE 25+ cu. ft
Best for 6 people
Measuring your space
If you've already found the refrigerator you want but are wondering if it will fit into your home, follow these tips to make sure you have enough room:
When measuring for width
Make sure to measure width in at least three locations: top, middle and bottom and account for countertops and baseboards.
When measuring for depth
Measure from the edge of your countertop to the back wall to make sure your fridge doesn't stick out. Also, take note of any issues like electrical outlets or baseboards.
Remember to leave some breathing room
You'll need at least 1 inch on either side, 1 inch along the top, and 2 inches in the back. Plus, if a side has a door hinge, you'll want at least 2 inches on that side.
Picking the right fridge
French Door
With side-by-side doors for the fridge and a bottom freezer drawer, French door models make it easy to grab the food that you reach for the most. Plus, French door refrigerators don't need as much clearance for their doors, making them perfect if you've got a small space.
PROS
Large capacity to save on trips to the store
Great for tight kitchens
Flexible storage with wide shelves and large bins
Tons of freezer storage
CONS
Usually more expensive
Freezer can get cluttered
Shop French Doors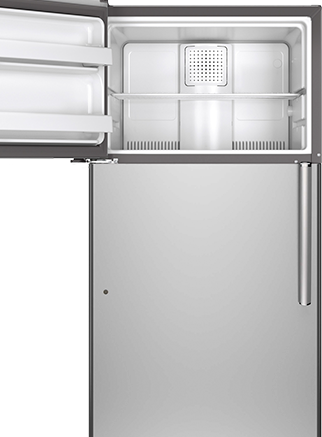 Top Freezer
When it comes to refrigerators, top freezers are the most common models because of their versatility, reliability, and affordable price point. Plus, they are generally more energy efficient! If you're looking for a budget-friendly fridge you can count on, the classic top freezer model may be a great option for you.
PROS
Can easily store larger items
Great value for your budget
Most can accept ice makers
CONS
Simple design
Need more space for door clearance
Basic features
Shop Top Freezers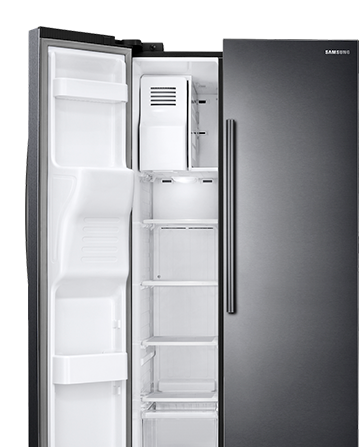 Side-by-Side
Side-by-side refrigerators are great for smaller kitchens and families who are always on the go! Since you don't have to worry about stacking food like you do in a drawer, they're easy to keep organized.
PROS
Budget-friendly pricing
Great for narrow spaces
Most have water & ice dispensers
Plenty of space to organize fresh food
CONS
Hard to store wide items
Narrow freezer space
Shop Side by Side