Refrigerator Buying Guide
Finding the Right Refrigerator for Your Needs
A new refrigerator is an investment that can make or break the convenience factor of your kitchen. Where choosing the wrong unit can lead to cluttered shelves and high energy costs, choosing the right unit can provide an efficient and reliable means of storing and preserving your favorite foods. But with so many styles, sizes, and features to choose from, picking the right refrigerator can be a daunting task. This guide will help you sift through the endless possibilities to find the perfect refrigeration unit to fit your needs.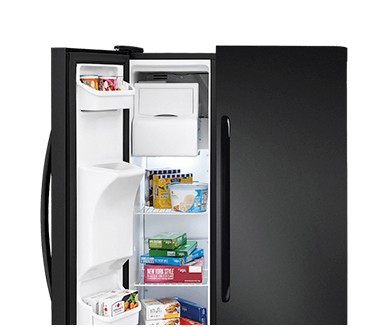 Choosing the right size
COMPACT TO MEDIUM 17-21 cu. ft
Best for 2 people
LARGE 22-24 cu. ft
Best for 4 people
EXTRA LARGE 25+ cu. ft
Best for 6 people
Measuring your space
The first thing to consider when selecting a new refrigerator is your available space. To ensure that your chosen refrigerator fits into your home, follow these helpful tips for accurate measurements and proper clearance:
Measure for width:
Take measurements at the top, middle, and bottom of the space where the refrigerator will be placed. Consider the presence of countertops and baseboards, accounting for their dimensions in your measurements.
Measure for depth:
From the edge of your countertop, measure the distance to the back wall. This will ensure that your refrigerator doesn't protrude too far into the room. Take note of any potential obstacles, such as electrical outlets or baseboards, that may affect the depth.
Allow for breathing room:
Leave a minimum of 1 inch of clearance on each side of the refrigerator to ensure proper ventilation and heat dissipation. Along the top, leave at least 1 inch of clearance as well. For the back of the refrigerator, allow for 2 inches of space. If one side has a door hinge, provide a minimum of 2 inches of clearance on that side to accommodate the door swing.
Measure doorways:
To make sure that there is enough space to move your new refrigerator into your home, find the shortest path to your unit's destination and measure the doorways your unit will have to pass through. You'll want at least a couple inches of extra space so that you can move your refrigerator inside for installation. For areas that require sharp turns, you may need additional space.
Choosing the Right Capacity
French Door
Featuring two side-by-side doors for the refrigerator compartment and a bottom freezer drawer, French door refrigerators offer spacious and flexible storage options, making it easy to organize and access your food items. With the refrigerator section at eye level, your freshest foods are conveniently within reach.
PROS
Large capacity
Flexible storage options
Convenient access to fresh food
Contemporary design
CONS
Limited Freezer Space
Higher price tag
Wider design requires additional space
Less Organized Freezer Section
Shop French Doors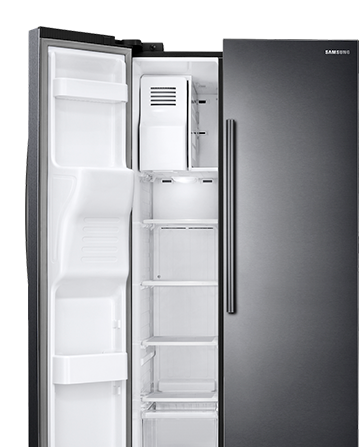 Side-by-Side
Side-by-side refrigerators are divided vertically, with the freezer on one side and the refrigerator on the other. These refrigerators offer a wide range of storage options, including adjustable shelves, multiple drawers, and door bins. The vertical layout allows for great visibility and organization of contents, making it easy to find items in both the freezer and refrigerator.
PROS
Ample storage space
Great visibility and organization options
Narrow door swing
Affordable pricing
CONS
Limited storage space for large items
Narrow freezer space
Shop Side by Side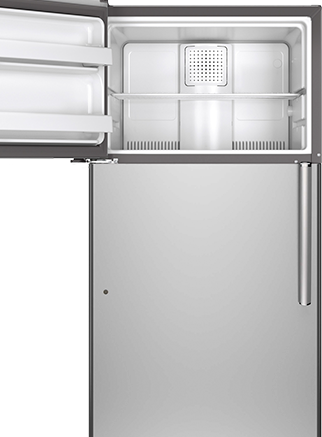 Top Freezer
With a top freezer refrigerator, the freezer compartment is located at the top of the unit, with the refrigerator section below it. These refrigerators provide easy access to frozen items, while the refrigerator section below offers ample space for storing everyday groceries. Top freezer refrigerators often feature adjustable shelves and door bins, allowing for flexible organization.
PROS
Affordable pricing
Wide Storage space
Simplistic and Classic Design
CONS
Limited storage for taller items
Frequent bending to access refrigerator items
Fewer advanced features
Shop Top Freezers
Additional Features
Smart Features
Smart refrigerators feature Wi-Fi connectivity, making your appliances more convenient than ever. Issue commands through Amazon Alexa or Google Assistant, monitor and control the temperature through your phone, and even shop groceries through a built-in touchscreen.
Fingerprint-Resistant Stainless Steel
The sleek appearance of stainless steel doesn't have to come with smudges and grime. Fingerprint-resistant refrigerators keep your unit looking fresh and make cleaning a breeze.
ENERGY STAR® Qualified
ENERGY STAR® qualified refrigerators help you save on energy bills while minimizing your household's carbon footprint. When you choose an ENERGY STAR® qualified refrigerator, you'll enjoy a positive impact on the environment as well as your wallet.