The National Center on Health, Physical Activity and Disability says it clearly: a sedentary lifestyle is dangerous to your health and the US Surgeon General states that most people don't get enough physical activity.

That's where fitness trackers and other wearable technology come in: these are mini computers you carry on your person, under, with or on top of your clothing. They track your physical activity, and can gently remind and motivate you to get more activity in your life. For instance, Shape Up America recommends 10,000 steps per day as a solid step towards good health and weight management.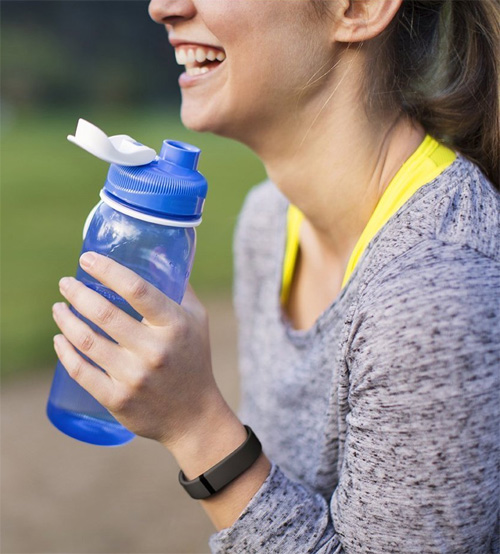 How do you know when you've reached your goal?

A fitness tracker like a FitBit can easily track your steps daily. When you see you're halfway through the day and you're only at 3,000 steps, you can decide to park further back in the parking lot or take the stairs to help. You can track your distance, speed, pace and calories burned. Your activity stats can be synced wirelessly with your smartphone via Bluetooth.

Dedicated apps are available for Android, Apple, and Windows phones and some fitness trackers are compatible with overall fitness apps like Garmin Fit, Samsung S Health, Endomondo Sports Tracker, and more. You also have the option to get a tracker like the Samsung GearFit it's a smart watch that tracks steps, measures heart rate, and lets you view emails, texts, and alerts.
You can graduate beyond just steps to even more features, with brands like Garmin or Tom Tom. Your fitness tracker can interface with GPS enabled watches and bike computers, meaning every activity you do towards your goal of staying healthy is logged and available to you.

There are some serious high-tech- devices like MIO designed for elite athletes to do virtually everything you could want, including continuous heart monitoring with 99% EKG accuracy, with target heart rate zones, and it's water resistant to 98 feet for swimming or diving.
Whether you just want to measure steps or take a critical measurement of your total activity, the big advantage with wearable fitness trackers is consistency. The device stays with you-it becomes an extension of you and what you are doing. When all your activity is logged, it's easy to build up to a healthy level of activity safely, and to set goals and stick with your program. You remind yourself to do more to reach your goal and that's good for your health.

Here at BrandsMart, we know wearable tech and can set you up with a fitness tracker to get you on your way and moving towards your fitness goals.

Discover fitness trackers and wearable tech.

Discover the BrandsMart way.