TV Shopping Guide
Picking the right TV
Choosing the right TV for your home can be tricky. There are so many factors to consider: size, features, brand. We've broken it down for you so you can be sure you picked the perfect TV for you and your family.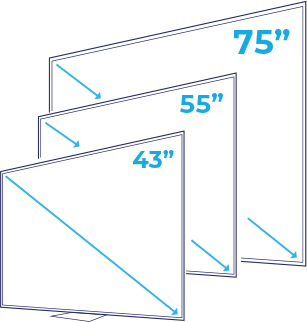 Choosing the right type
When picking the size of your TV, you need to consider the size of your room and how far away you'll be sitting.
43" - 50"
These TVs are perfect for average-sized living rooms and bedrooms
55" - 65"
These larger TVs work well in larger living rooms
75"+
These TVs work best in media rooms or anywhere you are looking for a fully immersive experience
Did you know?
The size of the bezel (the outside edge that wraps around your screen) has become much thinner in recent years, so the dimensions of a larger, modern TV is roughly the same as a smaller, older TV. For example, a 60" TV today may be the same size as a 55" TV a few years ago. Crazy, right?
Understanding TV features and terms
TV companies are always coming up with new terms to describe their latest and greatest features, but do you really know what all those acronyms stand for? Here's a quick cheat sheet to help you understand how those features affect your viewing experience.
Most TVs on the market are actually LED and since they've become so popular, they are available in a wide array of sizes and price points. The decades old technology that goes into LED translates to a brighter display with more contrast, which means a more realistic display. Plus, LED TVs bright screens mean you can still see the screen even when watching in a sunny room.

Also known as ultra high definition (UHD), 4K televisions have four times the pixels of a standard television. That's important because more pixels mean a sharper picture and finer details. 4K TVs are known for their vibrant colors, making them perfect for watching the big game or your favorite movie.

HDR, or high dynamic range, allows your screen to display a broader array of colors and produces more accurate black, which means you'll be able to make out everything on the screen while watching dimly lit dramas or scary movies.

Smart TVs allow you to watch all of your favorite shows and stream videos through apps like YouTube and Netflix by connecting to WiFi. If movie marathons and binge-watching TV is your thing, you'll love the convenience of a Smart TV.