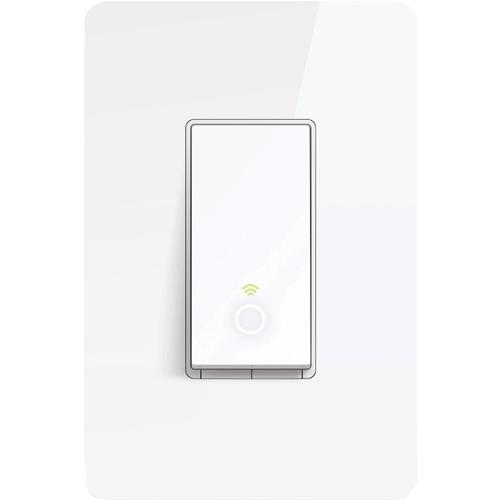 Smart Wi-Fi Light Switch
HS200
Remote Access - Control your home lighting from anywhere with your smartphone or tablet using the free Kasa app
Scheduling - Set lights to turn off and on at dawn, dusk, or any time that works with your daily schedule
Away Mode - Make it look like you're home when you're not by having your lights turn off and on randomly while away
Works with Amazon Alexa - Turn on or off the bulbs connected to the Smart Switch just using your voice with Amazon Echo, Dot, Tap and other supported devices(sold separately)
LED Indicator - Find the switch easily, even at night when all your lights are turned off
Control from Anywhere
The HS200 lets you control anything a standard light switch controls—all from your phone. Turn your lights, ceiling fans, and other fixtures off and on no matter where you are.

Turn off the light with
voice control


Turn on the light when
driving home
Control your light
freely
Peace of Mind
Check to make sure you turned off your lights while away from home on your smartphone or tablet.
Set Schedules
Use the HS200 to automate connected fixtures based on your daily schedule and preferences. The smart switch can even adjust automatically to changing sunset and sunrise times, set a time limit to turn off the light or secure your home when you're away.


Set your light to turn on when it gets dark and off as the sun comes up.

Away Mode lets the HS200 turn your devices off and on randomly to make it look like you're home, even when you're away at work or on vacation.

Set a time limit so your lights turn off automatically after you've already left the room.