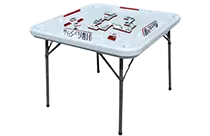 Toys
Toys: Unlocking Imagination, Sparking Joy
Welcome to a world of wonder and creativity, where toys bring endless joy to young hearts and playful spirits. At BrandsMart USA, we believe that toys are not just playthings; they are gateways to imagination and sources of cherished memories. Our extensive collection of toys is carefully curated to inspire, educate, and entertain children of all ages.
Educational Toys: Where Learning Meets Fun
Learning becomes an adventure with our range of educational toys. From alphabet blocks that teach early literacy to STEM kits that ignite scientific curiosity, our educational toys foster a love for learning while keeping children engaged and entertained. Watch as young minds blossom, problem-solving skills flourish, and confidence soars, all while having a blast.
Action Figures and Dolls: Unleash the Power of Play
Step into a world of storytelling and role-playing with our action figures and dolls. These beloved companions become the heroes and heroines of epic adventures, inspiring little imaginations to dream big and create their narratives. From iconic characters to diverse and inclusive options, our action figures and dolls represent the power of diversity and inclusion, encouraging children to embrace their uniqueness and celebrate their individuality.
Building Sets: Building Blocks of Creativity
Unleash boundless creativity with our building sets. Whether it's constructing towering skyscrapers with building blocks or engineering intricate structures with building kits, these toys empower children to be architects of their worlds. Building sets promote problem-solving, fine motor skills, and spatial reasoning, all while providing hours of enjoyable playtime.