Nano Cell™ Display.
Deeper, More Natural Colors.
Discover more detail, more explosive colors, more everything with Nano Cell™ Display televisions. Exclusive to LG, these SUPER UHD TVs represent a breakthrough in LED technology. No matter which seat in the TV room one chooses—straight on or at an angle—colors look truer and black levels look deeper.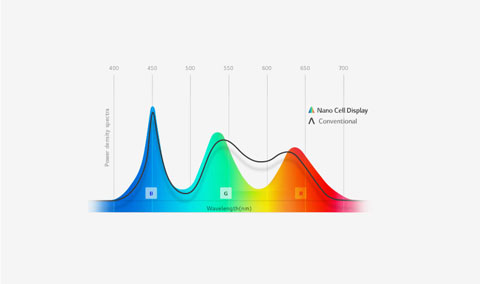 Ultra-fine Color Expression Through Nano Cell™ Technology

How do we see color? The wavelengths of reflected light determine what color you see. Nano Cell Display composed of nano particles integrated in panel absorbs any light interference and drastically enhances the color accuracy displayed on screen. Nano Cell Display produces a billion rich colors for a clearer, more lifelike 4K picture.



Lifelike Picture With Over A Billion Rich Colors

Nano Cell Display reveals a billion lifelike colors, 64 times richer than conventional TV. This ability to produce a full spectrum of color results in superior picture quality.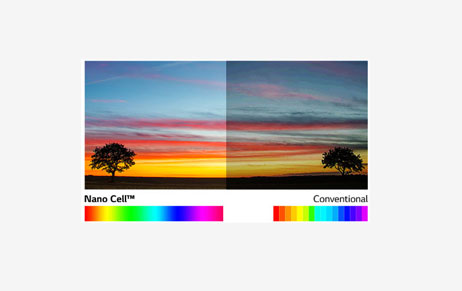 Billion Rich Colors

The availability of a billion rich colors gives the TV a palette 64-times broader than conventional televisions, to reproduce images with far more subtle and precise gradations, for a more lifelike picture.



SUPER UHD Cinematic Experience
LG SUPER UHD TVs deliver an experience that rivals the local theater. webOS streams the finest entertainment in just a few clicks, looking bold and rich thanks to Active HDR with Dolby Vision™. And the premium harman/kardon® audio system fills the room with deep, nuanced sound.

harman/kardon® Sound
From the masters of home audio, Harman Kardon, comes built-in TV audio that truly performs. The speakers on LG SUPER UHD TVs have been custom-tuned to provide clean, powerful, full-range audio that fills any TV room.
Enjoy The Most HDR Content
From brilliant brights to deepest darks, LG SUPER UHD TV offers the ultimate expression of high dynamic range. Unlike some other 4K televisions, LG SUPER UHD TVs support Dolby Vision™, optimizing the picture scene-by-scene, as well as the new backward-compatible HLG HDR standard so viewers get more options for premium content.
LG SUPER UHD TV supports the premium HDR, Dolby Vision™ favored by renowned filmmakers from all over the world. LG SUPER UHD TV not only delivers Dolby Vision, but also offers compatibility with other HDR formats such as HDR10 and HLG.


LG SUPER UHD TV supporting premium HDR Dolby Vision™, processes Dolby Vision's dynamic metadata* within each frame, to present the intended vision of the director in your very own living room. HDR10 and HLG are rendered by LG SUPER UHD TV's exclusive processing. By applying dynamic data produced by LG TV processing on a scene-by-scene basis, all types of content is displayed with improved HDR quality.
Dolby, Dolby Atmos and the double-D symbol are registered trademarks of Dolby Laboratories. Dolby Vision is a trademark of Dolby Laboratories.
webOS 3.5 Smart TV
webOS brings together all of the most popular streaming video apps, including Netflix, brought to life in 4K, HDR or enhanced with HDR Effect. And webOS gives you access to more than 70 free premium Internet channels through the LG Channel Plus app.
Please check with content providers for both required bandwidth to stream videos. Smart service on product is subject to change. Some apps that appear on the screen image may not be preinstalled; internet connection is required for download.
So Much More Than TV

2016 LG TVs with webOS now offer Channel Plus, integrating 50+ free streaming channels including Sports Illustrated, TIME, People and more. Discover premium new entertainment, sports and lifestyle programming right now.


Gorgeous Picture No Matter How You Look At It
From the front or from the side, every seat in the TV room gets a clear, vibrant picture without washed out tones. Thanks to IPS technology, LG SUPER UHD TVs ensure any view is a great one, not just those front and center.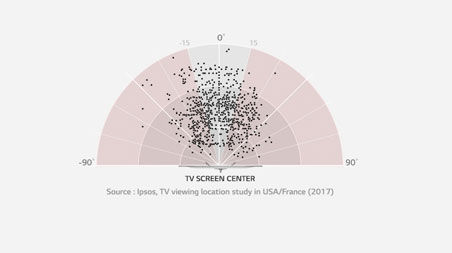 Research shows that about 60% of people watch TV off axis, defined as any viewing angle that is more than 15° from center at which picture quality begins to degrade in a conventional TV.