iMac® now offers a stunning Retina® 4K display on the 21.5-inch model and an even more spectacular Retina® 5K display on the 27-inch. And a wider color gamut means a palette of up to 25 percent more available colors. So photos and videos look crystal clear and vibrant, and text is razor sharp.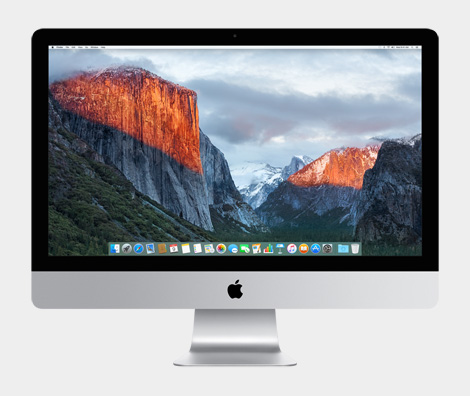 27-inch (diagonal) 5120 by 2880 Retina® 5K display
21.5-inch (diagonal) 4096 by 2304 Retina® 4K display
Stunning 5mm thin design
Intel Quad-core i5 processors
Powerful AMD Radeon R9 M380, M390 or M395 graphics with 2GB video memory (27-inch)
Intel Iris Pro 6200 graphics processor (21.5 inch)
802.11ac Wi-Fi
Magic Mouse® 2
Magic Keyboard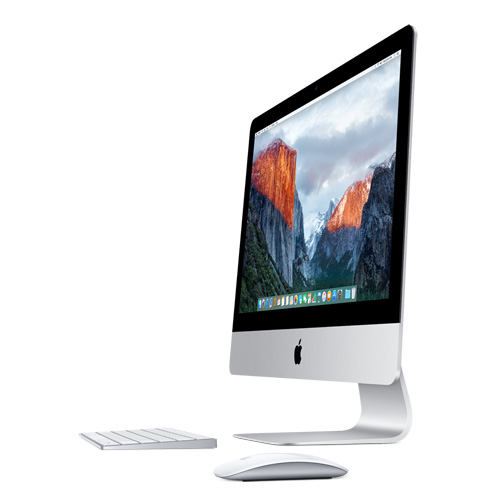 iMac®

iMac® features a gorgeous 21.5-inch widescreen display, powerful Intel processors, superfast graphics, and more. All in a stunningly thin enclosure that's only 5mm at the edge.
Mac® mini

Mac® mini now has fourth-generation Intel Core processors, increased graphics performance, and ultrafast 802.11ac wireless networking. It also features two Thunderbolt 2 ports, great built-in apps, and OS X El Capitan. And it's still the world's most power-efficient desktop.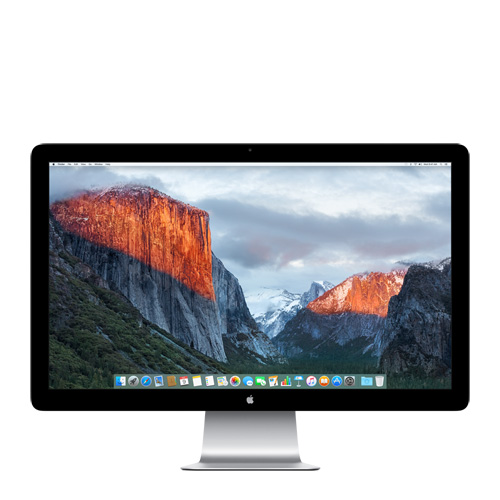 Thunderbolt Display



With built-in Thunderbolt technology - the fastest, most flexible I/O ever - the new Apple Thunderbolt Display can do things other displays simply can't. Of course, it delivers a brilliant viewing experience. But connect it to any Thunderbolt-enabled Mac and it becomes a plug-and-play hub for everything you do.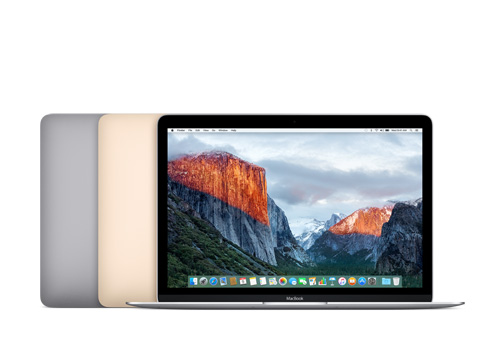 MacBook®

The new MacBook® delivers a full-size experience in the lightest and most compact Mac notebook ever. Every element, from the new keyboard and Force Touch trackpad to the 12-inch Retina® display, USB-C port, battery and logic board, has been completely re-imagined to make it not only thinner but also better. The result is more than just a new notebook. It's the future of the notebook. Available in gold, space gray, and silver.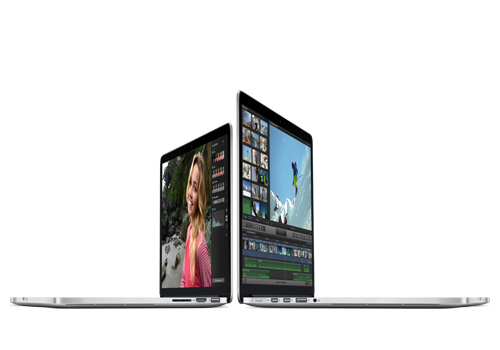 MacBook Pro®

A groundbreaking Retina® display. Powerful dual-core and quad-core Intel processors. Ultrafast flash storage. High-performance graphics. Great built-in apps. And the revolutionary new Force Touch trackpad and even longer battery life.1 Whatever you can imagine, MacBook Pro® with Retina® display gives you the power to create.

Magic Keyboard



The Magic Keyboard combines a sleek new design with a built-in rechargeable battery and enhanced key features. With an improved scissor mechanism beneath each key for increased stability, as well as optimized key travel and a lower profile, the Magic Keyboard provides a remarkably comfortable and precise typing experience. It pairs automatically with your Mac®, so you can get to work right away. And the battery is incredibly long-lasting - it will power your keyboard for about a month or more between charges.

Magic Trackpad®

Redesigned and rechargeable, Magic Trackpad® 2 includes a built-in battery and brings Force Touch to the desktop for the first time. Four force sensors underneath the trackpad surface allow you to click anywhere, and detect subtle differences in the amount of pressure you apply, bringing increased functionality to your fingertips and enabling a deeper connection to your content. Magic Trackpad® 2 also features an edge-to-edge glass surface area that is nearly 30 percent larger than the previous trackpad. This design, along with a lower profile, makes scrolling and swiping through your favorite content more productive and comfortable than ever.

Magic Mouse®

Featuring a new design, Magic Mouse® 2 is completely rechargeable, so you'll eliminate the use of traditional batteries. It's lighter, has fewer moving parts thanks to its built-in battery and continuous bottom shell, and has an optimized foot design — all helping Magic Mouse® 2 track easier and move with less resistance across your desk. And the Multi-Touch surface allows you to perform simple gestures such as swiping between web pages and scrolling through documents. Magic Mouse® 2 is ready to go right out of the box and pairs automatically with your Mac®.
AirPort Extreme®

The all-new AirPort Extreme® Base Station offers Wi-Fi speeds up to 3x faster than the previous generation. It features next-generation 802.11ac Wi-Fi, a powerful beamforming antenna array for higher performance and range, simultaneous dual-band support, and a new vertical design with a smaller footprint. And AirPort Extreme® is easy to set up and highly secure, letting you share your broadband Internet connection, a USB printer, or a hard drive.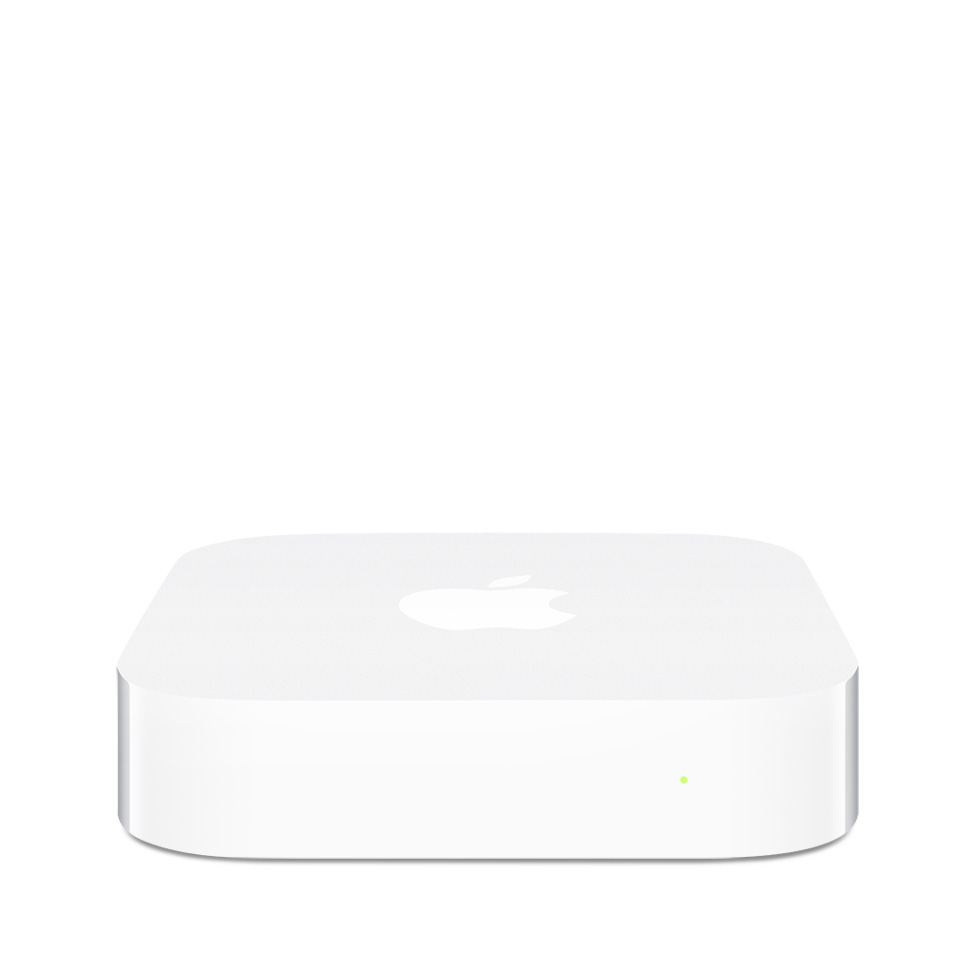 AirPort Express®

Now whole-house networking of all your Apple® devices is available with the Apple® AirPort Express® Base Station. This simple but powerful network device can perform a variety of tasks - from wirelessly controlling your printer, to extending an existing Wi-Fi network's range, to listening to your music library from any speaker in the house.

Buy the AppleCare Protection Plan for Macs, Apple Display and Apple TV at time of device purchase. Available for in-store purchase at any of our retail stores. The AppleCare Protection Plan can also be purchased within 1 year of device purchase at an Apple retail store or call (800) 275-2273 to purchase.

The AppleCare Protection Plan for Macs and Apple Display extends your repair coverage and telephone technical support to three years from the original purchase date of your Mac and Apple Display.

The AppleCare Protection Plan for Apple TV extends your repair coverage and telephone technical support to two years from the original purchase date of your Apple TV.

See the AppleCare Protection Plan Terms and Conditions for complete product details.
http://www.apple.com/legal/sales-support/applecare/appgeos.html

1Compared with the previous generation.
2Battery life varies by use and configuration. See www.apple.com/batteries for more information.
TM and © 2015 Apple Inc. All rights reserved.

Apple, the Apple logo, iMac, Mac, MacBook, MacBook Pro, MacBook Air, Magic Mouse, Magic Trackpad, AirPort Extreme, AirPort Express, SuperDrive, and Retina are trademarks of Apple Inc., registered in the U.S. and other countries.