iPad Pro™ is the best computer for the world we live in today. Powered by the A9X chip with 64-bit desktop-class architecture, it has the power of a PC and the power to go beyond it. Both the 12.9-inch and 9.7-inch iPad Pro™ feature a more advanced Multi-Touch™ Retina® display, offering an immersive experience in apps and videos. And with two advanced cameras, you can easily take stunning photos and videos and make picture-perfect FaceTime® video calls.5 Add the pixel-perfect Apple Pencil® and the incredibly thin Smart Keyboard, and iPad Pro™ becomes even more versatile.* No matter which size you choose, iPad Pro™ is a more powerful and personal way of doing everything you love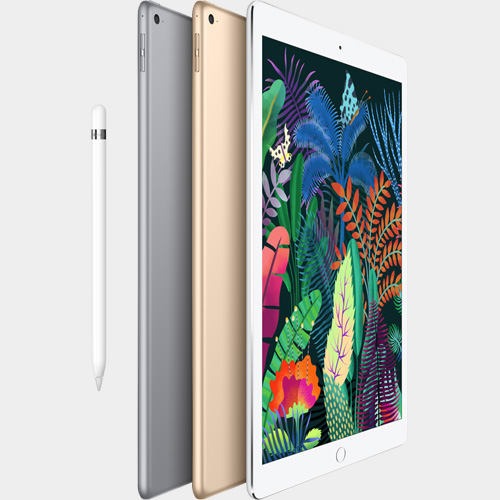 With its epic Retina® display, the 12.9-inch iPad Pro™ is the largest and most capable iPad® ever. It has a powerful A9X chip with 64-bit desktop-class architecture, four speaker audio, advanced iSight® and FaceTime® HD cameras, Touch ID®, Apple Pay®, Wi-Fi and LTE,1 and up to 10 hours of battery life.2 And with powerful iOS 10 multitasking features like Split View and Picture in Picture and over a million apps in the App Store®, iPad Pro™ elevates productivity to a whole new level.3 Yet iPad Pro™ is only 6.9 mm thin and weighs just over 1.5 pounds. Add the pixel-perfect precision of Apple Pencil® and the incredibly thin Smart Keyboard, and iPad Pro™ becomes even more versatile.*
The 9.7-inch iPad Pro™ delivers an unprecedented combination of portability and performance. At just 6.1 mm thin and weighing less than a pound, iPad Pro™ features the brightest iPad® display with True Tone® to deliver the most comfortable viewing experience. It has a powerful A9X chip with 64-bit desktop-class architecture, four speaker audio, advanced iSight® and FaceTime® HD cameras, Touch ID®, Apple Pay®, Wi-Fi and LTE,1 and up to 10 hours of battery life.2 And with powerful iOS 10 features like Split View and Picture in Picture and over a million apps in the App Store®, iPad Pro™ elevates productivity to a whole new level.3 Add in Apple Pencil® and the incredibly thin Smart Keyboard, and iPad Pro™ becomes even more versatile.*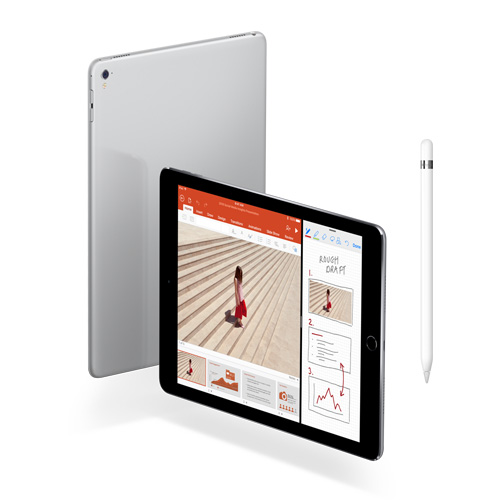 iPad Pro™ (12.9-inch)

12.9-inch Retina® display with antireflective coating (diagonal)
A9X third-generation chip with 64-bit desktop-class architecture
Touch ID® fingerprint sensor
8MP iSight® camera with 1080p video
1.2MP FaceTime® HD camera
802.11ac Wi-Fi with MIMO
LTE cellular data connectivity1
Up to 10 hours of battery life2
Four speaker audio
iPad Pro™ (9.7-inch)

9.7-inch Retina® display with True Tone® and antireflective coating (diagonal)
A9X third-generation chip with 64-bit desktop-class architecture
Touch ID® fingerprint sensor
12MP iSight® camera with 4K video
5MP FaceTime® HD camera
802.11ac Wi-Fi with MIMO
LTE Advanced cellular data connectivity1
Up to 10 hours of battery life2
Four speaker audio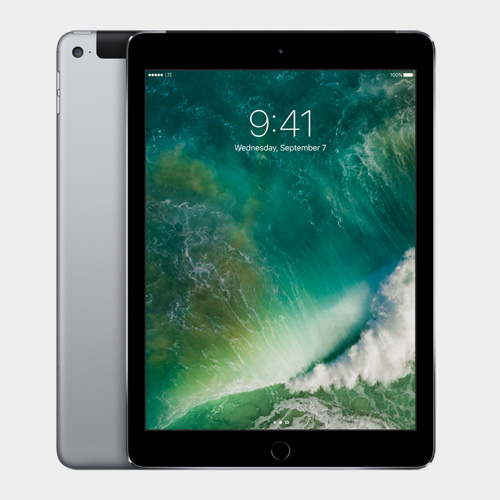 iPad Air® 2

The extraordinarily capable iPad Air® 2 has a gorgeous 9.7-inch Retina® display, and yet it is only 6.1 mm thin and weighs just 0.96 pound, so you can work, play, surf, and shop everywhere. And it includes a powerful A8X chip, iSight® and FaceTime® HD cameras, Touch ID®, Apple Pay®, and Wi-Fi and LTE connectivity.1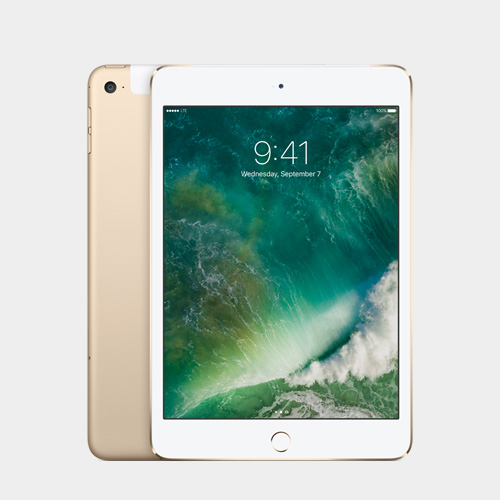 iPad mini™ 4



iPad mini 4™ combines power and portability within a thin 6.1 mm design weighing just 0.65 pound, so you can shop online or play games on the go. And it includes the powerful and capable A8 chip, stunning 7.9-inch Retina® display, iSight® and FaceTime® HD cameras, Touch ID®, Apple Pay®, and Wi-Fi and LTE connectivity.1

AppleCare+ for iPad extends your repair coverage and technical support to two years from the original purchase date of your iPad. And it adds coverage for up to two incidents of accidental damage from handling, each subject to a $49 service fee plus applicable tax.4 In addition, you'll get 24/7 priority access to Apple experts by chat or phone through getsupport.apple.com.

AppleCare+ benefits are in addition to any legal rights provided by consumer protection laws in your jurisdiction. Purchase of the plan is not required to purchase the iPad. AppleCare+ is subject to acceptance of the Terms and Conditions. For complete details, see terms at www.apple.com/legal/sales-support/applecare/applecareplus.

The company obligated under AppleCare+ in the United States is AppleCare Service Company, Inc., an Arizona corporation and wholly owned subsidiary of Apple Inc., doing business in Texas as Apple CSC Inc.

Local telephone fees may apply. Telephone numbers and hours of operation may vary and are subject to change.

Service coverage may be subject to certain restrictions.

*Apple Pencil and Smart Keyboard sold separately.

1 Data plan required. LTE is available in select markets and through select carriers. Speeds are based on theoretical throughput and vary based on site conditions. For details on LTE support, contact your carrier and see www.apple.com/ipad/LTE.

2 Battery life varies by use and configuration. See www.apple.com/batteries for more information.

3App count refers to the total number worldwide. Not all content is available in all countries.

4Service coverage is available only for the iPad and its original included accessories that are defective in materials or workmanship or for batteries that retain less than 80 percent of their original capacity. The replacement equipment that Apple provides as part of the repair or replacement service may be new or equivalent to new in both performance and reliability. AirPort devices must be purchased up to two years before your iPad purchase or during the term of your AppleCare+ coverage.

5Requires a FaceTime-enabled device with a Wi-Fi connection. Availability over cellular depends on carrier policies; data charges may apply.

Apple, the Apple logo, iPad, iPad Air, Apple Pencil, Touch ID, iSight, Apple Pay, App Store, True Tone, FaceTime, and Retina are trademarks of Apple Inc., registered in the U.S. and other countries. iPad Pro, iPad mini, and Multi-Touch are trademarks of Apple Inc. App Store is a service mark of Apple Inc. IOS is a trademark or registered trademark of Cisco in the U.S. and other countries and is used under license.