Reach new heights with the all new portable and compact drone:
DJI Mavic Pro
Discover captivating aerial views with the new DJI Mavic Pro, a compact drone with camera, refined with a new portable design and outstanding features. DJI has created the ultimate flying 4k camera for all your new adventures. It includes a high precision 3-axis gimbal for optimal use of every single pixel. Efficient high-density lithium batteries and propulsion system increases flying time allowing you to fly for miles. Get ready to launch and land safely using its Flight Autonomy technology, avoiding any bumps and scrapes, all at your command. Shop the drone of the year, DJI Mavic Pro, online or at a BrandsMart USA store.
| FOLDABLE AND PORTABLE
Low 743g (with gimbal cover) weight
Folds up to roughly the size of a water bottle
Ready to take off within 1 minute
Custom designed shoulder bag
| SAFE AND RELIABLE
24 high-performance processors, 5 visual cameras and dual-band satellite connectivity
Accurate positioning in various environments, indoors and outdoors
Front Obstacle Avoidance at top speeds of up to 22mph (36kph)
Key sensor redundancy for added reliability
| OCUSYNC™ TRANSMISSION
TECHNOLOGY
Control distance up to 4.3mi (7km)(FCC) and 2.5mi (4km)(CE)*
1080p live video downlink
Automatic frequency switching to maintain signal strength



*Without obstacles or interference
| CONTROL WITH MOBILE DEVICES
Fly by phone with virtual controls
Control distance: 262ft (80m), max height: 164ft (50m), max speed: 13ft/s (4m/s)
| FLIGHT PERFORMANCE
Sport Mode: 40mph (65kph) max speed
Tripod Mode: 3.6kph max speed, for accurate framing and indoor flight
Max Flight Time: Approx. 27*



*Flying st 15.5mph (25kph) in zero wind
| 4K CAMERA AND 3-AXIS GIMBAL
True 4K 30 fps video, 12MP stills, 78.8° FOV
DJI's smallest ever 3-axis mechancial gimbal
Shutter Speed: 1/8000-8s (great for night shoots)
Portrait Mode: vertical framing for portraits and tall buildings etc.
| INTELLIGENT FLIGHT
ActiveTrack: Follow a subject automatically, no bracelets no trackers
Gesture: Take a selfie with a gesture
Precision Landing: Land exactly where you took off
Terrain Follow: Keeps you flying at the same height above uneven terrain
| DJI GOGGLE*
High quality imaging with two 1920x1080 LTPS screens, 80° FOV
Low latency direct video feed from the Mavic to the goggles
Wireless connection between aircraft, RC and goggles



*Sold separately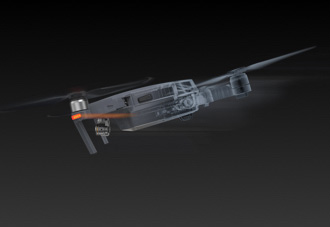 AT YOUR COMMAND
The Mavic acts on your every instruction instantly. Whether you want to shoot a slow, graceful flowing shot, or get your blood pumping with the 40mph (65kph) Sport Mode.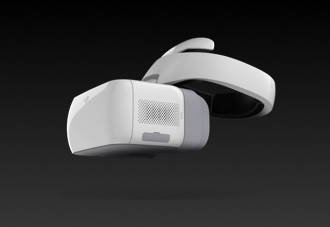 SEE THE WORLD LIKE A BIRD
Fly with a turn of your head and see the world from the eyes of a bird when you wear the super high quality wireless DJI Goggle.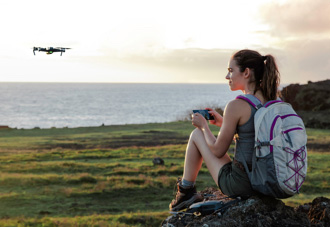 FLY BY PHONE
Maybe all you want to do is grab a quick dronie, set up tracking to shoot a friend, or even just head skywards for a quick flight. All you need is your phone.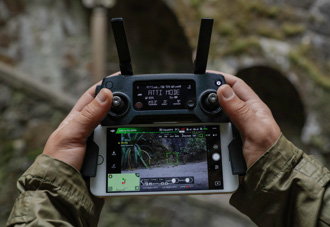 A TAP IS ALL IT TAKES
Flying could not be any easier, all you have to do is tap where you want to go. There is no better way to give your friends and family a taste of flying, while you stay in complete control.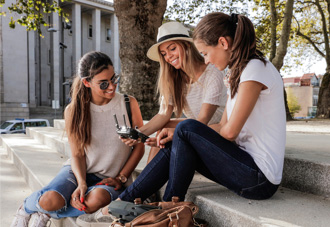 SHOOT. SHARE. EDIT.
You have shot the most incredible scene imaginable. Now you can edit it with just a few taps in the DJI GO Editor, and share it instantly for all the world to see.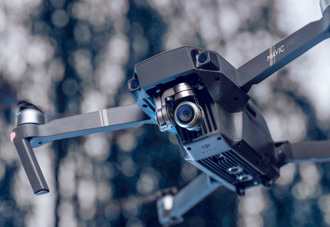 TWICE THE SENSORS. TWICE AS RELIABLE.
On a drone, the most likely source of a problem is a sensor not working exactly as it should. This is why the Mavic has two of each key sensor. If one does wrong, the other kicks in to take its place.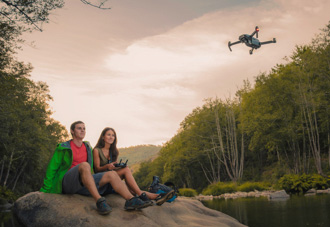 EASIER, SMARTER, SAFER BATTERIES.
Before DJI Intelligent Flight Batteries, powerful drone batteries could be unreliable. But with their own intergrated brains, DJI batteries are as easy and safe to use as a regular rechargable.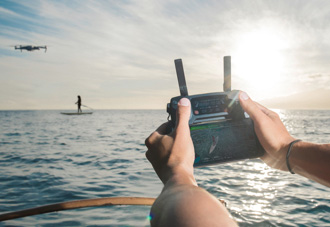 A GLANCE IS ALL YOU NEED
Through the DJI GO app you see everything the camera sees, as well as everything you need to know about your Mavic, from battery life to where it is, to where it is heading and much more.
The DJI Mavic Pro is a small yet powerful drone that turns the sky into your creative canvas easily and without worry, helping you make every moment an aerial moment. Its compact size hides a high degree of complexity that makes it one of DJI's most sophisticated flying cameras ever. 24 high-performance computing cores, an all-new transmission system with a 4.3mi (7km*) range, 5 vision sensors, and a 4K camera stabilized by a 3-axis mechanical gimbal, are at your command with just a push of your thumb or a tap of your finger.

*Unobstructed, free of interference, when FCC compliant.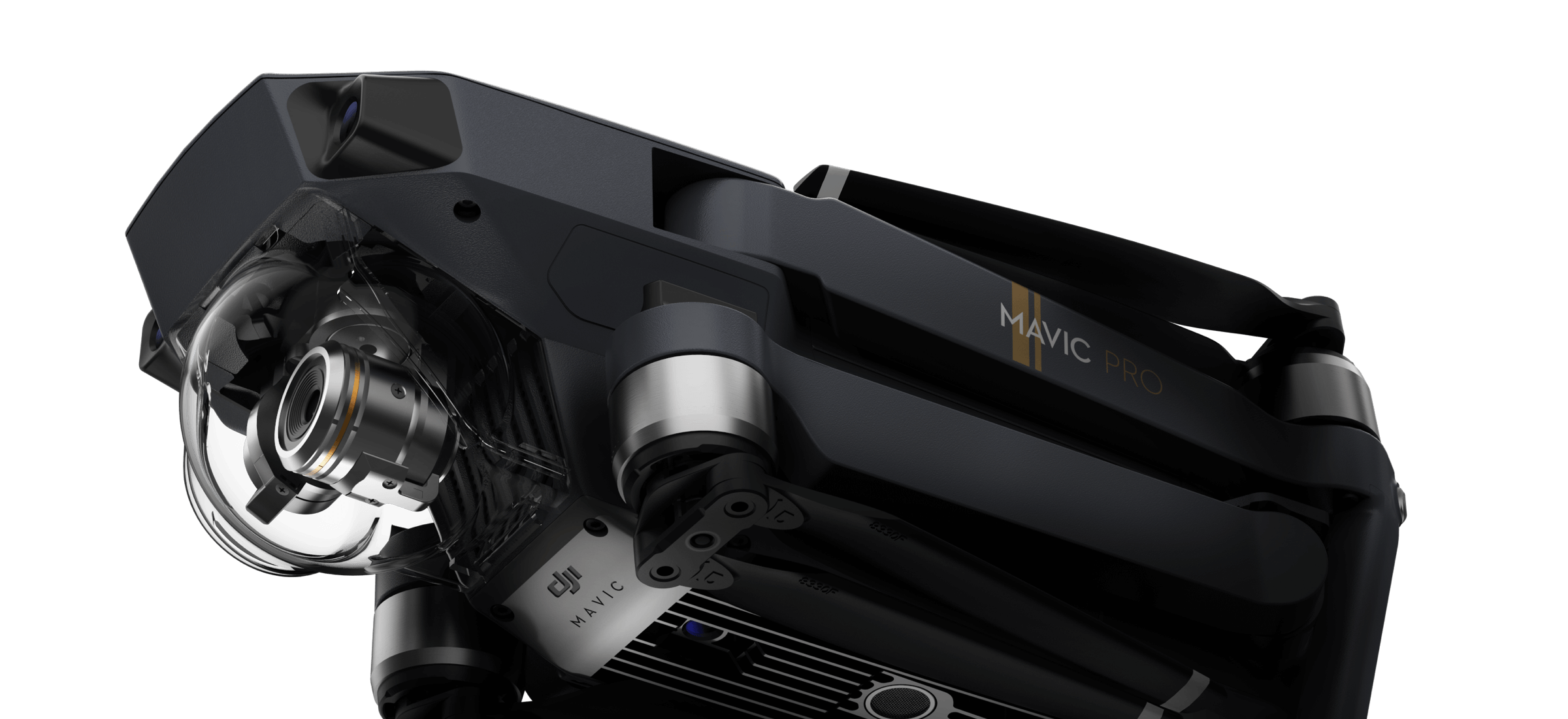 Compact
FlightAutonomy
4K Stabilized Camera
Flight Performance
OcuSync Transmission System