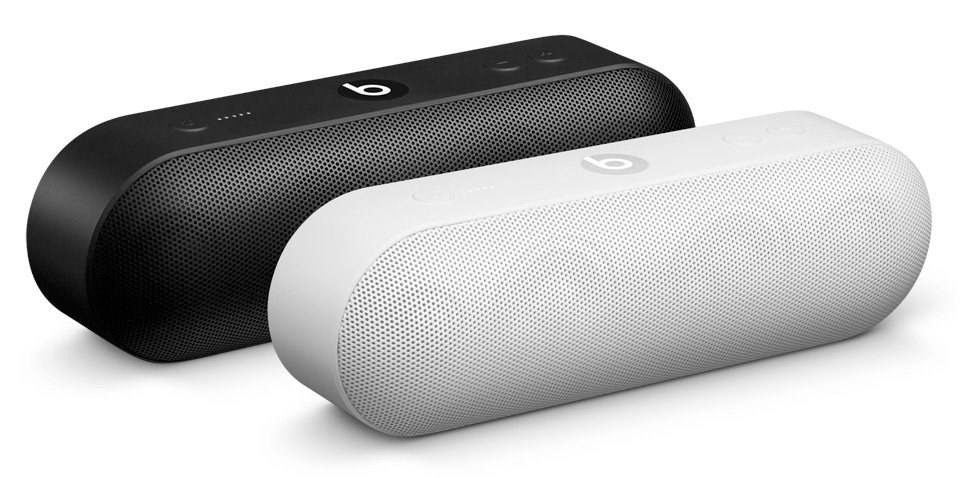 Beats Pill+


Sound bigger than its size.


Beats Pill+ is designed to go wherever you do and fill the room with a rich clear sound field that has as much power as it does definition. With a sleek interface, the Beats Pill+ is intuitive to use and brings people together with engaging features for a unique shared listening experience.

SOUND BIGGER THAN ITS SIZE
The stereo active 2-way crossover system creates an optimized sound field for dynamic range and clarity across all genres of music. Tweeter and woofer separation uses the same acoustic mechanics found in professional recording studios around the world.

DESIGNED AROUND YOU
With its sophisticated design, Beats Pill+ looks as good as it sounds. The simple, intuitive no-nonsense interface gets you to your music fast. Play, pause, skip tracks, and control your phone calls with a touch of the multifunction 'b' button.

PAIR & PLAY
Pair the Beats Pill+ to your phone, laptop, or any other Bluetooth©-enabled device and play your favorite tracks, videos, and games with optimized sound and ultimate convenience.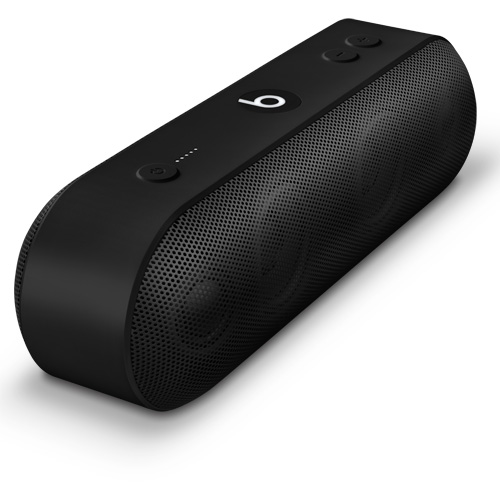 SPEAKERPHONE
Enhanced voice performance allows you to make and receive calls with clarity.

STAY CHARGED ALL DAY
The Beats Pill+ has a 12-hour battery life to stay charged on the go. Short on time? Use the included Lightning cable and power supply unit to get a quick charge in 3 hours. Keep track of your power levels with the fuel gauge so you always know how much battery is left.

CHARGE OUT
Keep the music going. Now you can charge your phone or external music device with extra juice from the Beats Pill+

BEATS PILL+ APP
Download the Beats Pill+ app* to unlock features that put you and your friends at the center of your music like never before. Bring a second speaker into the mix for even more innovative ways to play.

Get additional software updates and product support within the app.
*Available on iOS and Android.
Beats Solo2


Designed For Sound. Tuned For Emotion.


Beats Solo2 is designed with fine-tuned acoustics bringing you closer to what the artist intended you to hear, and in an array of colors for self-expression through style. Streamlined, lightweight, and durable, this compact headphone is perfect for taking your music with you wherever you go, with the Beats Solo2.

CUSTOM COMFORT
Engineered for comfort. The curved headband gives the Beats Solo2 a custom-fit feeling. And the ergonomically angled earcups complete this natural fit, with pivots for optimal comfort and sound delivery. Finally, the earcups' premium material helps dissipate heat and minimize sound leakage.

STREAMLINED DESIGN
The Beats Solo2 boasts a streamlined aesthetic with fast flowing curves and no visible screws. Disciplined decisions in engineering and material selection have created a more durable headphone that is equipped for extended use.

NO NEED TO REACH FOR YOUR DEVICE
Take control. With the color-matched RemoteTalk cable*, you can change songs, adjust the volume and even take calls, without having to reach for your device.
(*Functionality may vary by device.)
Beats Solo2 Wireless


Sound Made to Move.



Immerse yourself in the clear, dynamic sound of the Beats Solo2 Wireless headphone, wherever you go. With Bluetooth® technology, the Beats Solo2 Wireless offers the freedom of movement that conventional wired headphones cannot. The close-fitting comfort and streamlined design of the headband and earcups blend with your every move. Durable, foldable, and wireless, this headphone is the ultimate portable listening device. Enjoy your music with our full and responsive acoustics, delivering a complete listening experience. Get closer to your music with the Beats Solo2 Wireless.
Pair and play with your Bluetooth® device with 30 foot range
Fine-tuned acoustics for clarity, breadth and balance
12 hour rechargeable battery with fuel fauge
Take hands-free calls with built-in mic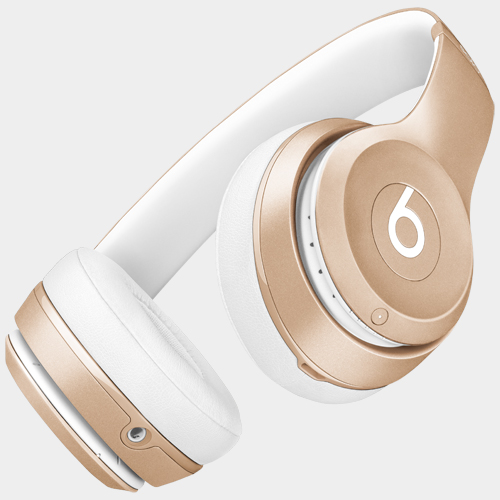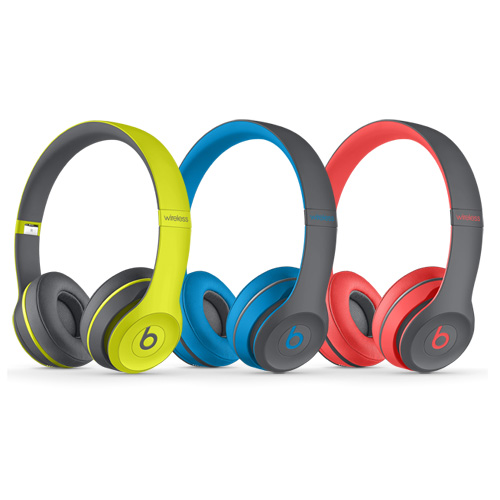 Beats Solo2 Wireless


Sound Made to Move.



When the power of sound is your key to staying focused, the Active Collection's Beats Solo2 Wireless headphones provide untethered music to fuel your on-the-go lifestyle. Available in energizing Shock Yellow, Siren Red, and Flash Blue.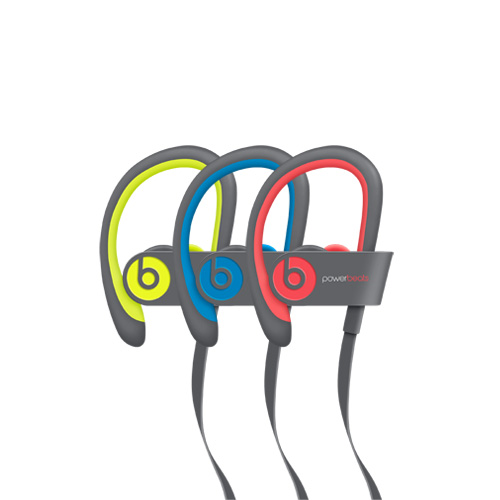 Powerbeats2


Wireless + Performance. Power. Freedom.



The Active Collection's Powerbeats2 Wireless earphones give you the freedom to take your run or workout anywhere in style. Available in energizing Shock Yellow, Siren Red, and Flash Blue.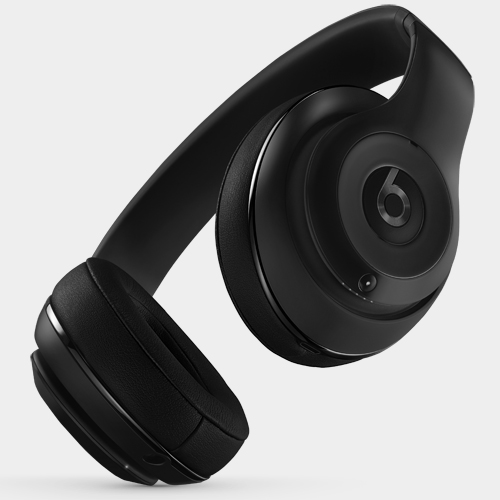 Beats Studio Wireless


Feel the music, not the wires.



The Beats Studio Wireless features Dual-Mode Adaptive Noise Canceling, a rechargeable battery, but with no wires. Take calls, skip songs, and change the volume right from the headphone. The Bluetooth® connection lets you enjoy your music wirelessly for up to 12 hours, or up to 20 hours when plugged into your audio device. The Beats Studio Wireless headphone has all the energy and excitement you would expect from Beats, but with even more freedom.
Pair and play with your Bluetooth® device with 30 foot range
Dual-Mode Adaptive Noise Canceling
Iconic Beats sound
12 hour rechargeable battery with fuel gauge
Take hands-free calls with built-in mic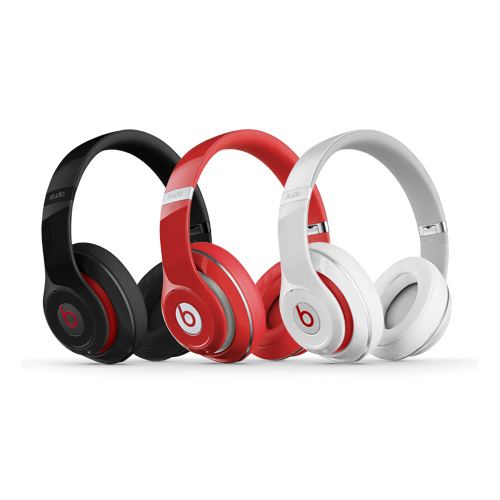 Beats Studio




The original, remastered.



The Beats Studio features the iconic Beats sound with Dual-Mode Adaptive Noise Canceling, plus a 20-hour rechargeable battery and RemoteTalk cable. The Studio headphone has all the energy and excitement you would expect from Beats.
Beats Mixr




Lightweight And Powerful. Built For DJs.



Designed for DJ's, Beats Mixr headphone is the loudest Beats by Dr. Dre headphone relative to its size. Beats Mixr headphones are made for audio enthusiasts and professionals alike. These on-ear headphones reproduce accurate sound and meet the needs of the world's best DJs. Their lightweight design allows you to pull them on and off while you're onstage without any trouble.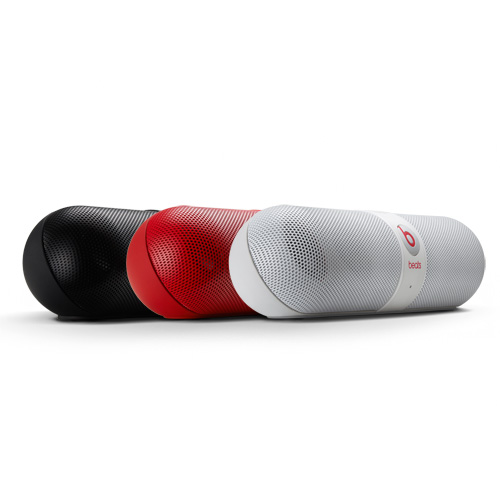 Beats Pill




Small But Loud.



Beats Pill's lightweight and portable design lets you bring the music wherever you go. The Pill produces powerful sound with soaring highs and deep bass. It connects to any Bluetooth-enabled device so you're free to let the music move you. Features include the ability to amplify or stereo your music with 2 Beats Pill speakers, accessory USB charging, and software updates straight to your Pill.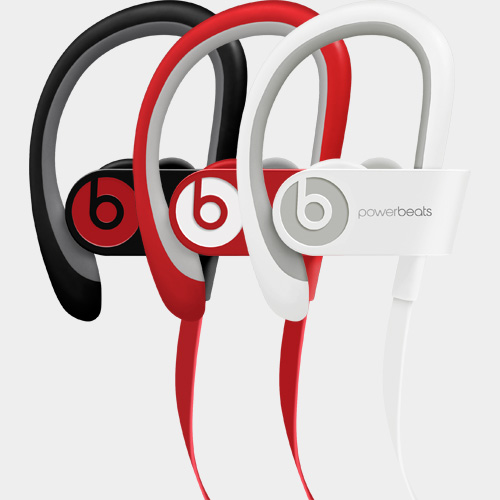 Powerbeats2 Wireless


Performance. Power. Freedom.



Inspired by LeBron James, Powerbeats2 Wireless is designed to defy the ordinary while catapulting athletes towards unparalleled performance. Lightweight and engineered with the power of dual-driver acoustics, the reimagined wireless earphones deliver the premium sound and performance needed to propel you through your run or workout.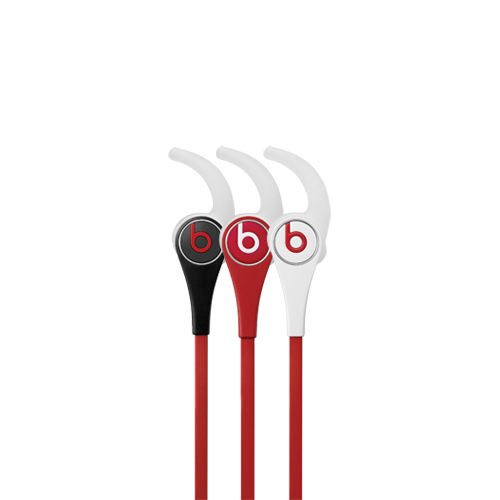 Beats Tour




Big Sound. Small Package.



Beats Tour earphones are made to stream the soundtrack of your life with clear, precise sound. Three options of removable wingtips and four options of eartips provide a comfortable, secure fit to allow for better noise isolation. Accurate speaker design delivers a full range of detail capturing crisp highs and powerful bass.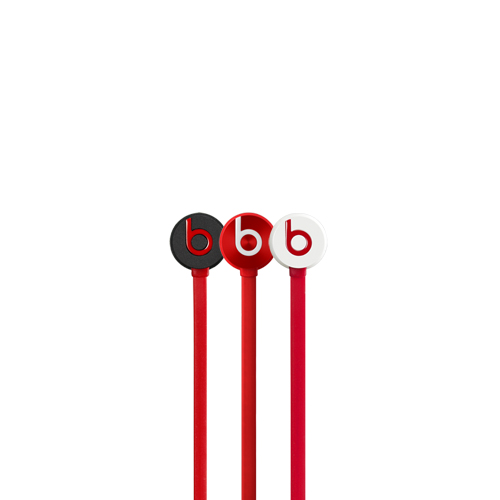 urBeats




Upgrade your sound.



Designed for music lovers who strive for the ultimate combination of sound and style, urBeats deliver pure audio in an ultra-lightweight and durable package. A solid metal housing in gold, silver, and space gray will be your phone's perfect match. The tangle-free cable with built-in-mic will help you effortlessly switch between music and calls so that you can enjoy premium, uninterrupted sound.